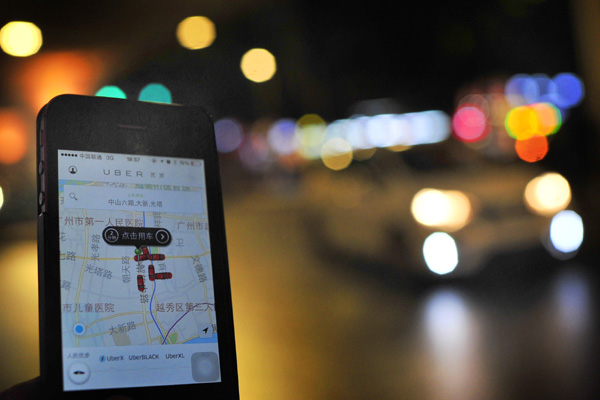 The car-hailing mobile app of Uber Technologies Inc. [Photo provided to China Daily]
BEIJING - US ride-hailing service company Uber will extend its service in China from 20 cities now to 100 more over the next year, its Chief Executive Travis Kalanick announced on Tuesday.
Kalanick's remarks in Beijing came one day after Uber's China unit confirmed having raised $1.2 billion, with more expected during an ongoing fundraising process for its expansion in the country.
Uber's partnership with China's Baidu was in the media spotlight at an event held by Baidu to launch its new product, Baidu secretary, an intelligent personal assistant based on big data. The two company signed a strategic cooperation and investment partnership last December.
In a live demo the Siri-like assistant was asked to hail an Uber, and Baidu's CEO Robin Li Yanhong hinted that the "driver" was someone special. Kalanick then appeared on stage.
In his speech, Kalanick stressed the importance of the two companies' partnership, saying that hundreds of millions of people that use Baidu Maps now can order a Uber directly from their Baidu Map app.
Earlier this year, another Baidu product - Baidu Wallet was also integrated in the Uber app as a local payment option.
Throughout his speech, Kalanick attached great importance to partnering with government relations.
Kalanick welcomed national regulations expected later this year, saying the governments who Uber partners with are incredibly open and incredibly accommodating of innovation.
Kalanick recounted the achievements since opening in Shanghai a year and half ago. "Remember when we started this year we had about 1 percent market share. Today 9 months later, we are looking at about 35 percent market share," he said.
Kalanick said Uber is now providing 1 million rides per day across China. "Every month we are creating 100,000 jobs," he said, adding that they will create a million jobs across the country as they continue to grow.