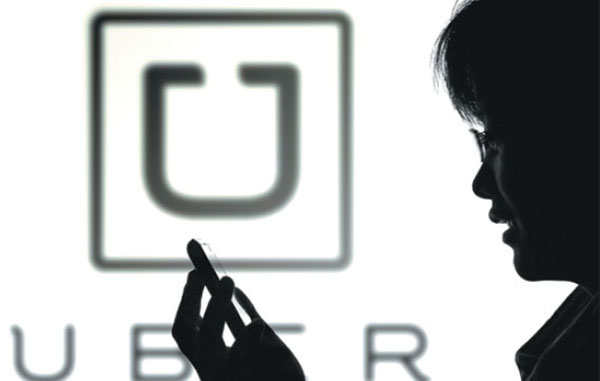 A customer checks her mobile phone next to a Uber promotional logo in Beijing. [Xiao Mu/China Daily]
Car-hailing platform Uber Technologies Inc said its latest fundraising efforts in China are "going as well as we expected", and will disclose details to the public when appropriate.
Responding to media reports that Uber China had shelved plans to raise capital from potential backers, due to disagreements over its valuation, the company also insisted in a text-message statement to China Daily: "We are dedicated to a long-term development in China."
The company is believed to be attempting to raise $1 billion to expand its presence in the booming market.
The shelving of the plan by the San Francisco-based Uber was reported on news.qq.com, an Internet portal run by Tencent Holdings Ltd, and suggested that potential investors considered the $7billion to $8 billion valuation of Uber's China branch too high.
Uber globally is believed to be valued at around $500 billion, but it is facing stiff competition in China from Didi Kuaidi, which is backed by Tencent and Alibaba Group Holding Ltd.
Didi Kuaidi announced earlier this month that it had completed a $2 billion financing round from existing stakeholders such as Alibaba, Tencent, Temasek Holdings (Private) Ltd and Coatue Management LLC, as well as several new investors including Capital International Private Equity Fund and Ping An Ventures.
That funding was based on a valuation of $150 billion, and was considered the largest single round ever for a Chinese company.
Uber has said that servers to support its Chinese business have already been relocated to the country, to follow new regulations saying servers for car-hailing platforms must be based within the mainland.
Zhang Xu, an analyst at Beijing-based Internet consultancy Analysys International, said Uber is expected to take the necessary steps to meet its financing target.
"China is so attractive to Uber that it will not give in easily," Zhang said.
"Even if its China branch is short of cash, it will earmark money from its deep-pocketed global operations."
Uber China spokesman Gao Chao said at the start of the month the company had raised $6.5 billion in funding from global investors, nearly twice the $3.5 billion cash reserves claimed by Didi Kuaidi.
Unlike its rival, however, which has to divide the money among operations in 58 countries, Didi Kuaidi President Liu Qing has insisted almost all its capital will be spent in China.
"China is the focus of our business. We will dedicate most of our cash to enriching and improving services in China," she said.
Experts said that with such an abundance of funds Didi Kuaidi is expected to shrink Uber's already-falling market share even further.
According to Analysys data, in the first quarter of this year Uber had 11 percent of China's premium car-hailing sector, but it was a distant second behind Didi Kuaidi, which claimed 78 percent of the three-year market.
Another local operator Yidao Yongche occupies third spot, with 8.4 percent.
"Uber is currently locked in a very embarrassing position," said Zhang.
"It needs cash to lure users away from Didi Kuaidi, but if it doesn't watch out it will soon be overtaken by Yidao, which is growing quickly."
The other possible obstacle for Uber in China is regulatory barriers.
The Chinese authorities are still to officially approve individuals being able to offer ride services with unlicensed cars.
"Though the two companies employ private cars to make for-profit trips, Didi Kuaidi, which is backed by Alibaba and Tencent, has considerably more political resources than Uber, which only counts search giant Baidu Inc as a local partner," Zhang said.
Didi Kuaidi's President Liu Qing is also the daughter of Liu Chuanzhi, the founder and chairman of Legend Holdings Co Ltd, Zhang said, giving it valuable contacts when dealing with the authorities.
In what could be a further blow to Uber's ambitions in China, Didi Kuaidi has already made progress in winning official recognition.
Ma Si and Meng Jing contributed to this story.