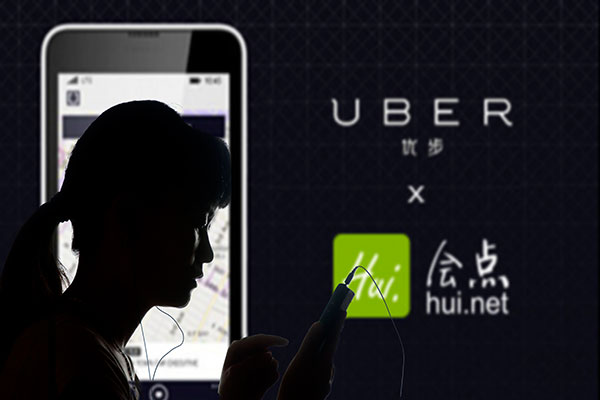 Uber is expected to set up a China-specific company. [Photo/China Daily]
Uber is planning to set up a Chinese company after police raids at local offices of the controversial ride-booking service provider.
"China is so different from the rest of the world. We understand how different it is and it should be an independent entity, with separate management and separate headquarters," said Uber co-founder and CEO Travis Kalanick in an interview with Caixin magazine in Beijing.
The move would be the first time Uber has set up an independent company for a specific market, rather than simply offices, since its establishment in 2009.
The company has expanded into at least 250 cities in 57 countries with its smartphone app that allows people to hail private cars.
Of those, the top three cities by number of rides are in China, in Guangzhou, Hangzhou and Chengdu. Police visited two of those offices this year to investigate charges of illegal operation.
Kalanick said the new company would be truly Chinese, with Chinese investors and partners who know how to interact with the government and who can help localize Uber for the Chinese market, according to the Caixin report.
China is an enormous market for Uber. It entered the country in February 2014 and now arranges about 1 million rides here each day.
The company is reportedly planning to invest at least $1 billion this year to grab a larger share of the Chinese market.
"I spent about 50 days here in China in the past six months, which is showing our commitment to operation (in this country)," Kalanick said.
Uber fans support the proposed move as the service provides cheap and convenient transport.
"I used other apps like Didi and Kuaidi," said Jin Fang, a 30-year-old office clerk in Beijing. "They said there were many taxes around but no one came to pick me up.
"Uber is different. The car will come, the car is cleaner and the driver is polite. Sometimes they even offer you tissues or a bottle of water free of charge."
Uber drivers are also happy with the service. They currently earn more by using Uber than other ride-hailing apps because the company offers prizes for those who give more rides.
However, obstacles and competition remain. Several days ago, Chinese service provider Ucar started a campaign called "Beat U" online, hinting that it might be dangerous to use Uber as drivers know the passengers' mobile phone number and possibly where theylive and work.
Chinese media reported on June 27 that an inebriated girl in Guangzhou hailed a car from Uber and woke ina hotel room bed with the driver.
Uber fans counter that the service is safe because they know the license plates of the vehicles that pick them up and the mobile phone numbers of the drivers. "Such information would prevent most Uber drivers from doing silly things. And that would make Uber service at least safer than traditional taxes," said Cui Na, a 35-year-old financial worker in Tianjin.