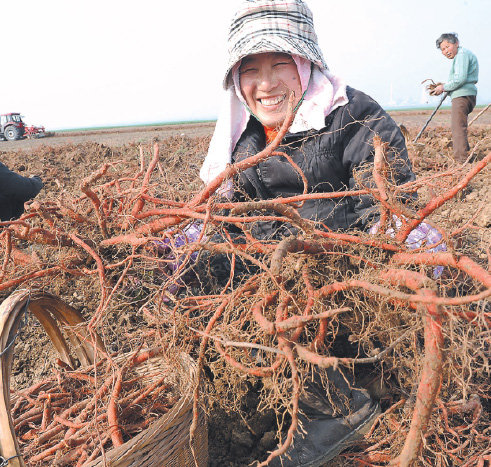 Farmers harvest codonopsis in Huainan, Anhui province. Wholesale prices of the health supplement dropped for eight consecutive weeks between April and May this year. [Photo/China Daily]
Wholesale prices fall from the boom years as oversupply hits the industry
Tumbling prices have left the traditional Chinese medicine industry in poor health. Finding the cure will not be easy. Oversupply, poor planning and increased competition threaten to send the sector into a summer slump.
Wholesale prices for pseudo-ginseng, codonopsis and chrysanthemum have all fallen, plunging the industry into what experts describe as a recession.
High-quality pseudo-ginseng, a health supplement, was selling at 900 yuan ($145.17) a kilogram in 2013. Now it is down to 350 yuan a kg, while lower grade products trade at 115 yuan a kg.
"The market may keep going down for a while," a report by the Kangmei Chinese Medicinal Material Price Index, one of the leading traditional medicine index systems in China, said.
It is a similar story with codonopsis, another health supplement, and chrysanthemum, which has nutritional benefits that can be made into a tea.
During the boom times in 2013, a kilogram of codonopsis was trading at 90 yuan, while chrysanthemum products reached a similar high. But the bottom has since fallen out of the market, with prices plummeting by nearly 80 percent to around 20 yuan a kg.
Wholesale prices, in fact, dropped for eight consecutive weeks between April and May this year.
According to another influential industry player and China's biggest traditional medicine trading website, zyctd.com, the cost of 11 products from a basket of 200 dropped during the week between May 25 and May 31. The wholesale price of a further 183 items remained static, while only six increased.
"The entire market of pseudo-ginseng is falling and it will stay at a low level for three to five years," Cui Xiuming, a deputy dean at Kunming University of Science and Technology's faculty, and the former head of Wenshan pseudo-ginseng research institute, said.
In a report released by S&P Consulting, a healthcare information company based in Beijing, domestic sales in traditional Chinese medicine topped 120 billion yuan in 2013. But growth slowed last year although the company has yet to release detailed annual figures.
The major problem facing the traditional Chinese medicine industry is oversupply. "Medicinal herb growers planted more after the boom period when prices went up," Liu Zhanglin, deputy director of China Chamber of Commerce for Import and Export of Medicine and Health Products, said. "So now there is an oversupply, even though the market is growing."
Small famers are also partially to blame for the turmoil engulfing the sector. They stockpiled valuable herbs when wholesale prices were high, hoping to get even more for their products. Eventually, they were forced to flood the market or suffer substantial losses.