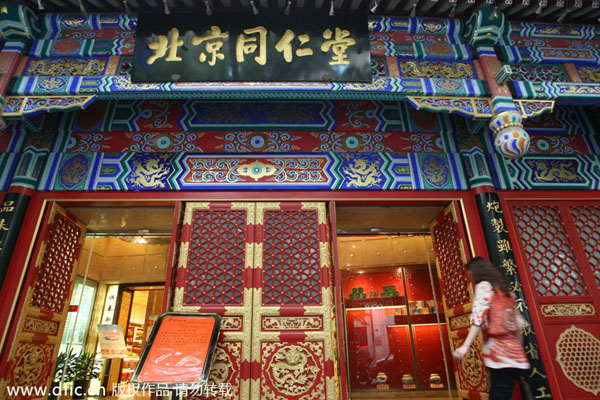 Pedestrian walks past a branch of Beijing Tongrentang, a time-honored pharmacy, in Shanghai, June 26, 2013. [Photo/IC]
BEIJING - Beijing Tongrentang (TRT) Co Ltd, the renowned traditional Chinese medicine company, has been a household name in China for centuries, but since the 1990s it has been carving out a reputation globally.
Founded in 1669, it was named the exclusive supplier of medicine for the Qing Dynasty (1636-1912) in 1723, the highest honor for any Chinese medicine maker, producing drugs for the imperial court for 188 years.
Bolstered by its domestic success, TRT went on to open 110 outlets in countries like Canada, Australia and New Zealand, and now has more than 600 employees overseas.
Zhao Xuecheng, deputy general manager of the TRT Macao branch, has witnessed the ups and downs of the company's journey going global, which began in 1993 with pharmacies established in Hong Kong, Macao and Indonesia.
No success story is without trials and tribulations, and TRT's journey is no different. Despite this, the company has managed to establish itself as a global brand through integrity, quality and excellent service.
When southern China's Guangdong province, was hit by a drought between December 2005 and March 2006, low water levels resulted in salt water reducing the effectiveness of TRT products, threatening the company's promise to keep its prices affordable.
With much of the company's fresh water supply now contaminated with salt water, Zhao had to decide if he should raise the service charge in Macao.
He decided to use mineral water but did not increase the service charge, despite creating losses for the pharmacy.
This decision cost TRT more than 19,500 Macao patacas ($2,440) in just four months, Zhao recalled. However, customers lauded the decision and brand loyalty was strengthened.
Although traditional ways of making medicine have been replaced by modern production lines, quality has not been affected.
"TRT is still very selective in choosing its raw materials and insists on purchasing the best herbs," said Lu Guangrong, 78, a quality control supervisor at TRT.
"Ginseng is widely used and TRT only uses large Ginseng sourced from northeastern China's Jilin province," said Lu.
Keen to share Chinese practice with the global community, TRT is also promoting Tai Chi and acupuncture abroad while collaborating with traditional Chinese medicine research institutes to foster talent overseas.
TRT has treated more than 30 million patients overseas and has plans to establish plantations, research and production centers, as well as retail and wholesale outlets overseas, according to Ding Yongling, vice general manager of TRT.
TRT was listed on the Shanghai Stock Exchange in 1997. As of Friday, its combined valuation surpassed 45 billion yuan (7.3 billion).