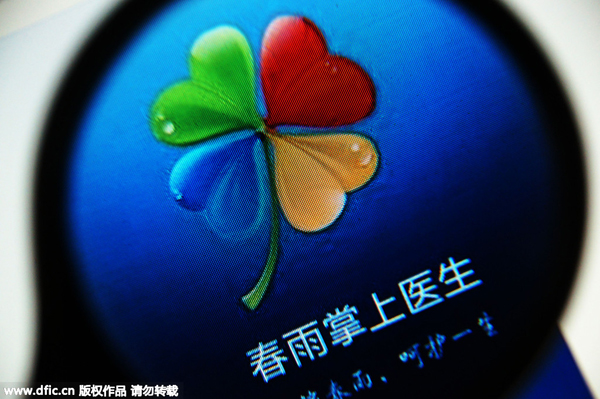 A Chinese netizen browses the website of online healthcare platform Chunyu in Tianjin, China, Jan 1 2014. [Photo/IC]
As China's online giants invest heavily in the Internet healthcare sector, a four-year-old startup is on the way to making money.
Chunyuyisheng.com, one of China's largest mobile medical service providers, is expected to record up to 150 million yuan ($23.6 million) in revenue this year.
"Although we are not profitable yet, we are seeing a steady rise in revenue," said Zhang Xu, CEO of Chunyuyisheng, which boasts 83 million users on its mobile platform.
A major cash source is the company's private doctor service. Unlike in the United States or the United Kingdom where individuals can visit a regular doctor in their local community, many patients in China do not have that option.
"Our private doctor plan consists of online services and offline medical solutions," Zhang said. "When a patient encounters a health problem, he or she can first ask for medical advice from our pool of doctors online and receive an early diagnosis."
Chunyuyisheng, which is based in Beijing, claims to have more than 330,000 doctors working on a part-time basis.
Medical questions are answered on average within three minutes, according to the company. Patients can also pay for a consultation with a specific doctor, but this can take up to 24 hours.
"About 70 percent of the problems that patients have can be directly handled online. For those patients with more complicated problems, they can go to our bricks-and-mortar Chunyu Clinics for medical examinations," said Xu Yanni, director of public relations at Chunyuyisheng.
The company now runs 25 clinics in major cities in partnership with leading hospitals. It rents their medical equipment and offices, and plans to open 250 more by the end of this year.
"Hospitals have a great deal of resources, which are not used all the time," Xu said. "For instance, a hospital which is well-known for treating chest-related diseases may see few patients visit its pediatrics (children's) department. We can make better use of these resources to set up a clinic."
Doctors used by Chunyuyisheng are all heads of departments from China's largest public hospitals and tend to spend two days a week at the company's health clinics.
"In their own hospitals, these experts need to handle normal problems such as flu. It is a waste of talent. But in our clinics, they mainly treat patients who have serious conditions," Xu said.
The private doctor services rolled out by Chunyuyisheng are priced at just over 2,600 yuan a year. This includes online and offline consultations.
"A significant proportion of the amount go to the doctors we employ," Xu said, without disclosing detailed figures.
Ma Si contributed to this story