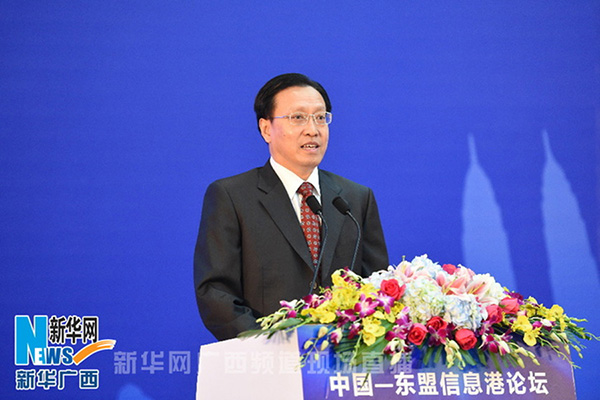 Lin Nianxiu, member of CPC Committee, and vice minister of National Development and Reform Commission, speaks at the China-ASEAN Information Harbor Forum opening ceremony in Nanning, Guangxi Zhuang autonomous region on September 13, 2015. [Photo/Xinhua]
China will work closely with ASEAN countries to turn the China-ASEAN Information Harbor into an information hub and share the achievements of cyberspace development, said Lu Wei, minister of the Cyberspace Administration of China (CAC) on Sunday.
The China-ASEAN Information Harbor Base was launched when a Memorandum of Understanding on Cyberspace Cooperation and Development was signed between China and Laos.
During his speech on Building Interconnecting Harbor and Sharing Cyberspace Development Achievements, Lu said Chinese President Xi Jinping paid close attention to building the China-ASEAN Information Harbor and that detailed construction plans have been worked out by the CAC, NDRC and Guangxi.
Lu noted that great achievements have been made in promoting the information harbor, building exchange platforms, boosting cooperation and landing key projects, which have led to comprehensive cyberspace exchanges between China and the ASEAN countries.
More and more people have come to realize that the information harbor is a pivotal hub that enhances the Internet network, information interconnection, wealth convergence and cultural exchanges and infusion through win-win cooperation and sharing.
China is willing to join with the ASEAN countries to boost the digital economy, information service, technological innovations, Internet culture and cyberspace administration, while sharing the achievements of cyberspace development, Lu added.
First proposed at the China-ASEAN Cyberspace Forum in September last year, the China-ASEAN Information Harbor Forum includes five cooperation platforms for joint development of infrastructure, information sharing, technological cooperation, economic and trade services and people-to-people and cultural exchanges, and attracts widespread recognition and positive responses from representatives of the ASEAN countries.
The forum will last for two days with plenary sessions on the China-ASEAN Information Harbor: Planning and Vision, Cross Border E-Commerce, Enhancing Exchange and Cooperation for Flourishing Cyber Culture and Cooperation against Cyber Crimes.
The forum was staged jointly by the CAC, National Development and Reform Commission (NDRC) and Guangxi Zhuang autonomous region.
Also addressing the forum, themed "Internet plus Maritime Silk Road: Cooperation, Mutual Benefit and Win-win" were Peng Qinghua, party secretary of Guangxi Zhuang autonomous region and chairman of the standing committee of the People's Congress, Lin Nianxiu, vice minister of the NDRC, and Hiem Phommachanh, minister of Post and Telecommunications of Laos.