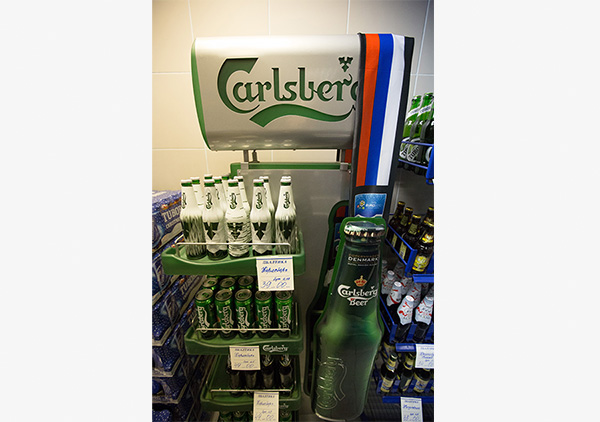 The colors of the Russian flag sit on a display of Carlsberg beer brands in the factory store at the OAO Baltika brewery, operated by Carlsberg A/S, in Saint Petersburg, Russia, Dec 17, 2014. [Photo/Agencies]
What are your views on globalization?
J. C. Jacobsen established Carlsberg in 1847 in Copenhagen. However, that has changed now. Carlsberg is no longer just a Danish company. Today, it is a truly international company operating in three major markets. We are in Asia-China is an integral part of the Asia business, Eastern Europe and Western Europe.
About 15 years ago, Carlsberg Group had very little business outside of Denmark. We now have 98.5 percent of our business coming from outside of Denmark. Of course, we would like to strengthen our business, including in China, even further. It should be done in a sustainable way, and in such a manner that we can continuously create value for shareholders, consumers and employees.
With the global economy slowing down, do you think that the current pace of globalization is in line with the macroeconomic trends?
We must always adapt to a bundle of conditions, including the financial situation around the world. I am pleased to see that within the past five to 10 years, the importance of Asia has grown tremendously at Carlsberg. Five to 10 years back, Asia accounted for 5 percent of our business, but the same has climbed to 20 percent now.
At the same time, it's not a secret that Eastern Europe, which used to account for 50 percent of our global earnings in 2007, contributed only 28 percent of the earnings in 2014. This, to some extent, reflects the impact from some of the issues that exist in Russia today. So the important thing for me, as the chairman, is to hire the very best talent, including the best CEO, and hopefully he can hire a good team of professionals for Carlsberg. But a key attribute for all talent across the board is the ability to adapt to a changing environment.
What do you think is your biggest challenge right now?
The biggest challenge for me right now is to make sure that Carlsberg is managed well and is doing well around the world. You know, by the end of the day, it's my responsibility to make sure that we constantly have the right management team. I must say I am very glad that we now have Cees Hart as our new CEO.
Hart has initiated a strategy process involving our top 60 people. He would like to take this group of 60 people to China for them to learn the speed of the development in China, and also, how e-commerce is gaining importance here.
How do you perceive the Chinese market?
I am very pleased to see how our business in China has been growing. Recently we acquired Chongqing Brewery and we are currently integrating the assets. You should remember that Carlsberg is heavily reliant on its key international brands like Carlsberg, Tuborg, Kronenbourg 1664, and the core part of our business in China is to actually grow our very strong local beer brands.
Beer is categorized into international brands and local brands that many people consider as their favorite. When I go and visit my friends in Chongqing, they like their Chongqing Beer. Carlsberg is already a very strong player in western China, and is gaining ground in Central China with the Chongqing Brewery acquisition.