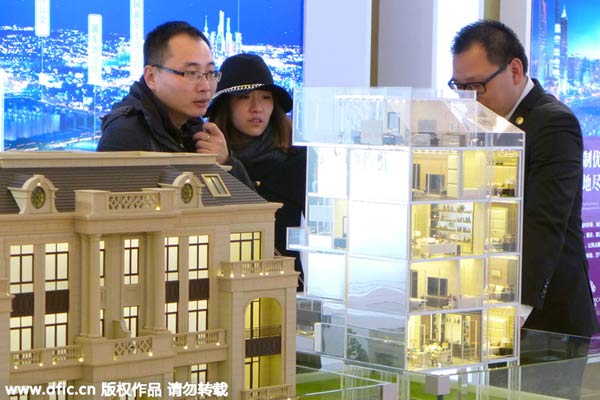 Chinese homebuyers look at models of residential apartment buildings during a real estate fair in Shanghai, Dec 13, 2014. [Photo/IC]
BEIJING - China's housing market continued to pick up in August, with new home prices in an increasing number of surveyed cities registering month-on-month rises.
Of the 70 large and medium-sized cities surveyed, new home prices climbed month on month in 35, up from 31 the previous month, with 26 reporting month-on-month price declines, down from July's 29, according to data released on Friday by the National Bureau of Statistics (NBS).
Year on year, 62 cities reported new home price drops, down from July's 67, with Shenzhen posting a sharp rise of 31.8 percent in home prices.
For existing homes, 16 cities saw price declines in August on a monthly basis, 11 reported flat prices, while 43 cities posted gains.
According to NBS statistician Liu Jianwei, the number of cities with price increases in both new houses and second-hand houses grew in August on a monthly basis but with a smaller margin due to narrowing rise in first-tier cities.
Home prices in top-tier cities, where demand is high, saw strong growth year on year. While in second-tier cities, both new and existing home prices recorded mixed performances and for third-tier cities, home prices continued to decline.
China's housing market took a downturn in 2014 due to weak demand and a surplus of unsold homes. The cooling has continued into 2015, with both sales and prices falling and investment slowing.
The central bank has moved to combat the slowdown, cutting benchmark interest rates four times since November and lowering banks' reserve requirement ratio twice since February.
To help the emerging signs of improvement in the property sector, the country also eased down payment requirements for second-home purchases and some local governments have rolled back their restrictions on home purchases.