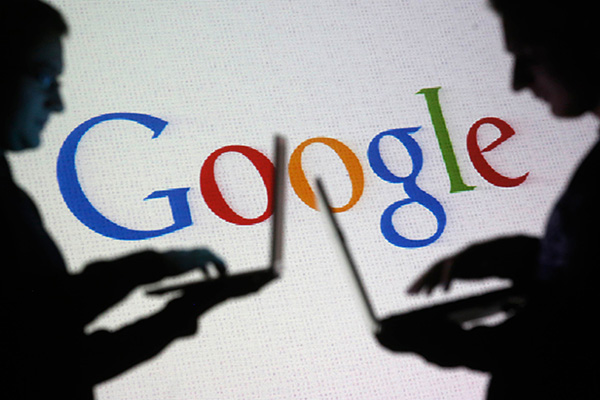 People are silhouetted as they pose with laptops in front of a screen projected with a Google logo, in this picture illustration taken in Zenica October 29, 2014. [Photo/Agencies]
Google Inc is in search of China business again, five years after its abrupt departure from the lucrative market.
The world's largest Internet search provider is aiming to bring its online mobile application store Google Play to the Chinese mainland as soon as this month, multiple sources said.
If it succeeds, it will mark a return of sorts for Google to the mainland market after 2010.
The company, which owns the world's most-used smartphone operating system Android, is working on a "special" version of Google Play in the country, and the app downloading platform will be available for Android devices for sale in China, according to technology news site the information.com.
A Beijing-based app developer on Monday confirmed the story with China Daily, saying the US company has been preparing a China launch for a while.
"It will be a tailored version, meaning the content of the apps will be subject to Chinese regulations and video products, such as movies, will not be available," said the person, who asked not to disclose his name because the details are yet to be made public.
Another source, who also asked for anonymity, said Google is also likely to bring along a number of local companies to provide localization services while launching the app store.
Google refused to comment, when contacted for the story.
Earlier this year, Sundar Pichai, product chief at Google and the company's next CEO, told Forbes magazine that China is important for the company and it will be "a privilege" to serve Chinese users.
Industry data show Google has already missed out the highs of the country's smartphone market. Smartphone shipments in China ended a six-year growth streak in the first quarter, research firm International Data Corp said.
China's smartphone sales are reaching a peak, as shipment growth is being powered by existing users buying new devices, rather than first-time buyers, the IDC said.