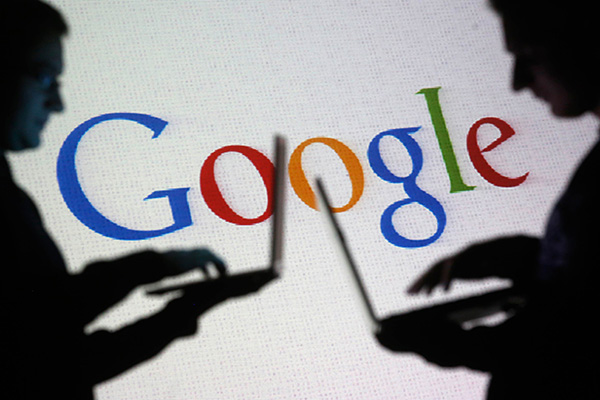 People are silhouetted as they pose with laptops in front of a screen projected with a Google logo, in this picture illustration taken in Zenica October 29, 2014. [Photo/Agencies]
Tech giant readying decks for return to lucrative market
Google Inc is quietly putting back its services in China, amid speculation that the United States online search provider is preparing a return to the world's biggest Internet market.
Although Google still directs online search requests from the Chinese mainland to its Hong Kong site, the company's map products are once again available in the market.
The browser version of Google Maps and its Google Earth software were partially accessible in Beijing as of Wednesday.
Gao Chunhui, who established China's first personal website in 1997, said on his Weibo account that Google had moved some of its servers to Beijing, Shanghai and Guangzhou. The Internet service provider Google was using belonged to State-owned carrier China Telecom Corp Ltd, according to the Internet protocol addresses of the servers.
Google did not comment. Other Google-owned products, such as Gmail, news and application downloading platform, are still inaccessible.
The small steps the search giant is making in China suggest Google is mulling over a comeback, five years after its abrupt departure because of disagreements with the Chinese regulator.
Sundar Pichai, chief executive officer of Google, said earlier this year that the company is looking forward to serving Chinese netizens again.
Last month, sources told China Daily that Google has been looking to bring its online app store Google Play back to China. The US company did not confirm or deny the development.
The developer of the Android operating system used in 80 percent of the smartphones in the country, has already missed the golden period in the Chinese market. Google Play will face challenges from several local app stores, many of them directly owned by handset manufacturers themselves, if it wants the top slot in the Android app download market.
Dong Xu, an Internet market researcher from Beijing-based market research firm Analysys International, said because Chinese app download and online search markets are becoming more mature, Google will find it difficult to gain a significant market share.
"The major players have a steady control over the market, and displacing them will not be that easy," Dong said.
What is also unclear is Google's exact relationship with the government.
Although the Google Map services are available, there is no evidence that it has received the must-have online mapping license from the industry watchdog-the National Administration of Surveying, Mapping and Geoinformation.
Google executives were also absent during President Xi Jinping's US visit last month. On the other hand, Facebook Inc's CEO Mark Zuckerberg, Apple Inc's Tim Cook and LinkedIn Corp's co-founder Reid Hoffman were there in person to greet the Chinese leader.
But that does not mean that Google has no friends in China.
The company is likely to join hands with its Chinese partners to enlarge its presence in the country.
Huawei Technologies Co Ltd, maker of Google-branded Nexus 6P smartphones, and Lenovo Group Ltd, which last year purchased the Motorola unit from Google, are the most likely teammates for the US giant.
Lenovo's Chief Executive Officer Yang Yuanqing said in September that his company will be "a perfect partner" if Google returns to the market.