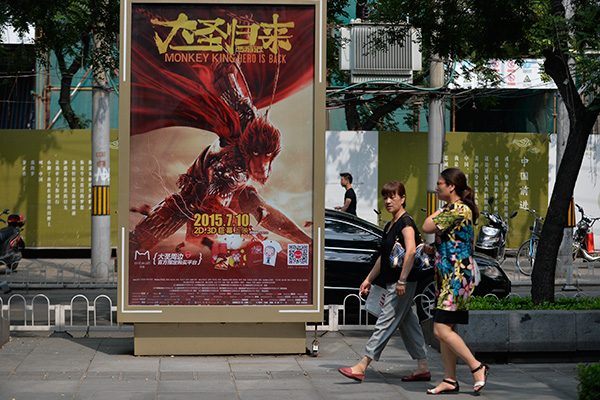 Two women pass by the poster of movie Monkey King: Hero Is Back in Sanlitun area of Beijing. [Photo/China Daily]
Despite the success of Monkey King, investors need to pick film projects carefully for funding: experts
Chen Zunlang is just one year old but his name has already been emblazoned across the big screen as a producer of China's summer blockbuster movie.
Although he was never captured on film, Chen joined the list of 109 "kiddie producers" with an average age of less than four. All of them were from 89 Chinese families, who invested 7.8 million yuan ($1.23 million) to help market Monkey King: Hero is Back through crowdfunding.
"The model of crowdfunding is born for filmmaking," Lu Wei, executive producer of the movie, said, adding that investors can reap the rewards within a year.
Based on the Chinese legend of the Monkey King, the film has become a smash hit since it was released in July, making a record-breaking 956 million yuan at the box office.
Naturally, this is good news for the 89 families that invested less than 90,000 yuan each. They are likely to make a whopping 200,000 yuan on their investment.
"With the (June) turmoil affecting China's stock market, everyone is looking for new avenues to invest," Lu said. "Apart from being regular financial products, movies are art. They can connect with investors in a deeper way."
The film industry has been quick to embrace crowdfunding, which allows small investors to finance business ventures through online platforms.
"I raised 5 million yuan within 5 hours after I spread the word that I was seeking investment online," Lu said. "We launched the crowdfunding plan (on WeChat, which is owned by Tencent Holdings Ltd) at the end of last year to raise marketing investment for the movie."
But while Monkey King: Hero is Back has been an incredible commercial success and an excellent advert for the power of crowdfunding, many film projects end in financial disaster after flopping at the box office.
"Last year, the total investment in China's filmmaking industry was more than 80 billion yuan while the total box office was about 30 billion yuan," Huang Guofeng, an analyst with consultancy firm Analysys International in Beijing, said. "The majority of investors end up with nothing. It is a very high-risk industry for investment."
Still, this has not stopped small investors hoping to strike it rich. Since crowdfunding is relatively new here, the business model is still evolving, particulary in the creative arts sector such as television and filmmaking.
Figures released by Yingcan Consultancy in Shanghai showed there are about nine online platforms in China offering crowdfunding opportunities for investors in movie and TV projects.