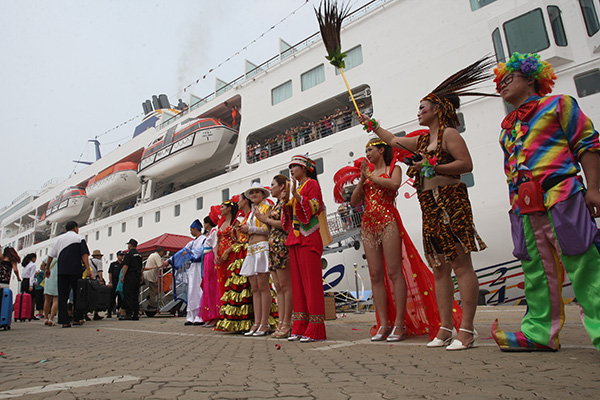 Performers welcome passengers aboard for a cruise in Yantai, Shandong province. The China Cruise and Yacht Industry Association said it expects about 1 million Chinese tourists to take cruises this year, compared with 861,700 passengers last year. [Photo/China Daily]
The world's largest cruise operator is deploying two more of its brands in China, in an effort to capture a larger share of the expanding Chinese market for luxury ocean travel.
Carnival Corporation's Carnival Cruise Line and AIDA Cruises will join its Costa Cruises and Princess Cruises brands operating here, said Arnold Donald, chief executive officer and president at Carnival Corporation and Carnival Plc, meaning four of the company's 10 brands will have at least one ship based here.
Industry figures show more than 100 million Chinese tourists made outbound trips last year, more than the rest of the world put together.
The China Cruise and Yacht Industry Association said 861,700 passengers chose to take a cruise in 2014, a 43.36 percent rise. It said 739,600 Chinese tourists sailed from home ports in 2014, a 44.3 percent rise from a year earlier, and it expected 1 million Chinese tourists to take cruises this year.
Carnival Cruise Line has 24 ships operating three-to 16-day trips globally, to destinations including the Bahamas, the Caribbean, Alaska, Hawaii, Canada, and the Pacific Islands.
Speaking at the 10th China Cruise Shipping Conference & International Cruise Expo on Wednesday, Donald said it also has two 133,500-ton ships on order, one scheduled to sail in 2016, and the other two years later.
Christine Duffy, president of Carnival Cruise Line, said: "More than 4.5 million guests a year choose to spend their vacations with us.
"With cruise demand rapidly increasing in China and our ability to work in partnership with other Carnival brands to leverage our collective experience and scale, it provides an outstanding opportunity to enter the Chinese market."
The company claims AIDA Cruises is one of the fastest-growing tourism companies in Germany.
Operating 10 cruise ships, its fleet will grow to 14 ships by 2020.
Felix Eichhorn, its president, said the company's "German style on the sea" will be one of its selling points in China.
Carnival Corporation's two existing cruise brands in China, Costa and Princess, will each introduce a new ship to their fleets next year, which officials said made Carnival the first global cruise company with six ships likely to be based in the country.
The expanded fleet will represent a 58 percent increase in total capacity in China in 2016, with the Costa and Princess brands potentially offering around 4 million passenger cruise days.
Miami-headquartered Norwegian Cruise Line also announced at the expo on Wednesday that its first ship, specially made for the Chinese market, would debut in 2017. With a capacity of 4,200 passengers, the new vessel is its second "Breakaway Plus" level ship.
The company also revealed it has just opened a new office in the Xintiandi area of Shanghai, having already opened premises in China World Trade Center Tower in Beijing, and in Quarry Bay in Hong Kong, offering services on three of its brands: Norwegian Cruise Line, Oceania Cruises and Regent Seven Seas Cruises.