Being an iOS user for years, "the good" and "the bad" words swarmed into my head after using and testing the latest iPhone 6s and iPhone 6s Plus for two weeks.
Here are some hands-on insights I want to highlight and the video above will tell you more about the two devices.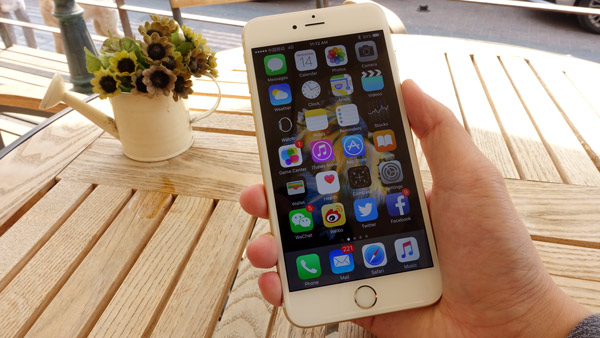 Photo taken on October 14, 2015 shows the iPhone 6s Plus launched by Apple Inc in September in San Francisco. [Liu Zheng/chinadaily.com.cn]
Starting with a simple "touch"
The multi-touch display iPod Touch unveiled by Apple Inc in 2007 triggered a new trend of human-computer interaction and Chinese consumers really started to chase trendy technologies since the launch of iPhone 4 in 2010.
This year, Apple has upgraded its next-generation fingerprint recognition feature, the Touch ID fingerprint sensor, making it easier and faster to unlock your phone.
Users have been impressed after experiencing the response speed for activating the function as the single press home button on the new iPhone will simultaneously light the display and unlock the phone.
Sometimes this high-speed response can even present a problem when you simply want to check the time or a notification without unlocking the screen.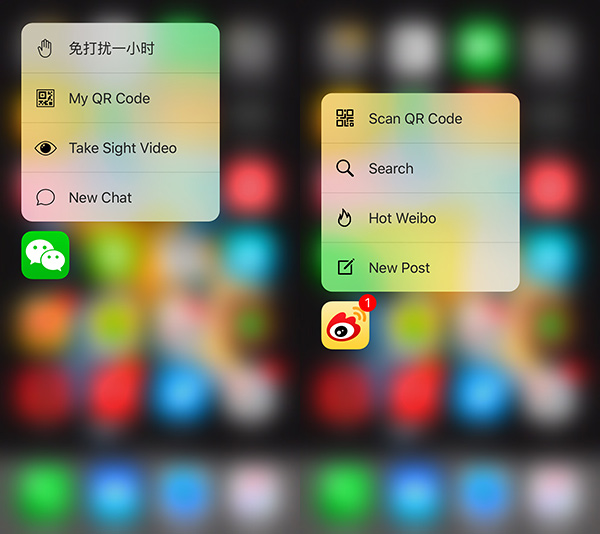 Screenshot shows the 3D Touch function is available for WeChat and Sina Weibo. [Liu Zheng/chinadaily.com.cn]
3D Touch, a new technology introduced by the Cupertino company, allows users to execute different commands depending on how hard they press the display.
Unlike previous multi-touch technology, which allows users to pinch and zoom, 3D Touch will let users do what Apple calls 'peek' and 'pop'. Peeking or pressing lightly on the display means previewing a piece of content and when you "pop" -- press on the screen harder and longer -- this will expand the content, letting you interact with it.
As Tim Cook, CEO of Apple, pointed out the new feature "cuts out a number of navigational steps to get where you're going".
Unlike the launch of the first generation Touch ID sensor, Apple said 3D Touch will support third-party apps from the start.
For example, WeChat and Sina Weibo, two originally Chinese social media applications, are the early birds that are redesigned to access 3D Touch. Users can create new chat or new posts when "peeking" the apps.
Some of Apple's original apps, including Photos, Clock, Notes, Maps, Mail and Messages are also built in the same function while others, such as Health, Videos, Watch and Stocks are not.
One of the my favorites is that when you activate the function on the "Photos" app, there's a "One Year Ago" short-cut that will let you skip directly into the photo collections that you've saved in your phone a year earlier.