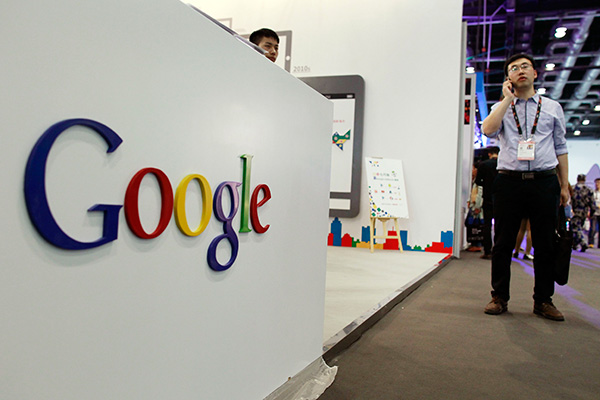 The booth of Google Inc at an Internet expo in Beijing. [Photo/China Daily]
Beijing-based artificial intelligence firm gets $75 million as funding from technology giant
Google Inc made a rare investment in China, indicating the search engine's return is around the corner.
The United States-based search engine took a minority stake in Chinese artificial intelligence startup Mobvoi, a Beijing-based firm founded by former Google employees. The latter said on Tuesday evening it has received a $75-million investment in its latest round of funding led by Google.
Both companies did not disclose the size of Google's investment.
Li Yuanyuan, co-founder of Mobvoi, said the Chinese management team kept "absolute control" over the company.
"We were a close partner with Google in China before the deal. Now that Google has become an investor, it gives both sides more possibilities to work together," Li said.
Don Harrison, vice-president of corporate development for Google, said in a statement Google decided to invest in Mobvoi because of its "unique" speech and natural language processing technologies.
But the Chinese company's ability to support Google in its push for wearable operating system Android Wear gave the US company another reason to write the check, it is learned.
Mobvoi developed Ticwear, the first Chinese-language operating system used on wearable devices. Because Google's own Android Wear system is not fully available on the Chinese mainland, Ticwear could be an appropriate substitute.
Ticwear is already comparable with a wide spectrum of Android Wear apps. The Chinese company also makes smart watches that can install Android apps.
Google's investment in Mobvoi is its first in China since 2010. Joan Wang, managing director at venture capital firm SIG Asia Investment, said Google will help Mobvoi further commercialize its products as well as expand overseas.
Google pulled its major services-including online search, e-mail and mapping-out of the Chinese mainland five years ago due to disagreements over industry regulations.
Chinese players such as Baidu Inc quickly dominated the massive market the US company vacated.
Google has never completely abandoned the Chinese mainland market though. It kept a fairly large engineering and sales team in Beijing even at its lowest point.
Currently, the company's major service in China involves helping Chinese companies launch online advertisements overseas.
But after missing out on the high double-digit growth of Chinese smartphone market since 2010, Google appears to have decided to return to the world's largest Internet market full throttle, some industry observers said.
Some local Android app developers had said Google may announce its plans to return to the Chinese mainland in coming months. But the company refused to confirm this talk.