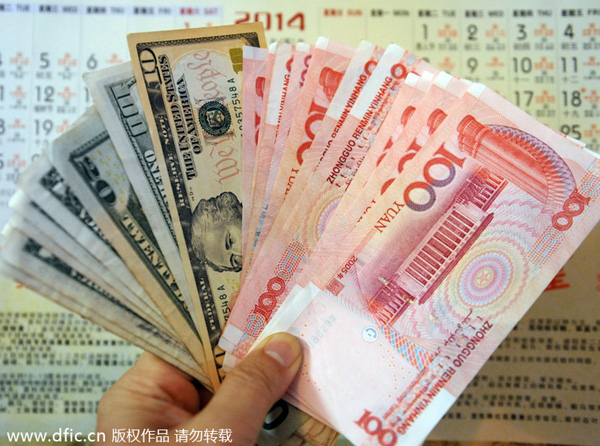 A Chinese resident displays his Chinese currency and US dollar banknotes in Qionghai city, South China's Hainan province, March 15, 2014. [Photo/IC]
China is considering a pilot trial to allow qualified individuals to invest overseas in the Shanghai free trade zone, a step closer to scrapping the controls on the capital account.
A State Council executive meeting presided over by Premier Li Keqiang on Wednesday decided to study and initiate the trial in the zone to allow qualified domestic individuals to make overseas investments, according to a release issued after the meeting.
Mei Xingbao, an external supervisor for the Bank of China, said the announcement was long-awaited and could be seen as a step forward in the internationalization of the yuan.
However, the trial would be conducted on a small scale and have a limited impact, Mei said.
"It will be open to residents living or working in the free trade zone, so it could benefit only a handful of people. But if fully implemented, it will have significant importance in the loosening of capital controls in China," Mei added.
The release did not give further details of the requirements for individual investors, but reports in the Shanghai-based Securities Times have said qualified domestic investors should own net assets of more than 1 million yuan ($157,000) and must pass a test on their financial risk-preparedness.
Mei said the scale of the trial is below market expectations, as other places that applied to join in, such as Zhongguancun, a high-tech development zone in Beijing, and Wenzhou, a city in Zhejiang province known for its booming private businesses, were not included.
"The central government is being prudent in carrying out reforms like this. There are risks of money laundering," he said.
The China (Shanghai) Pilot Free Trade Zone was set up in September 2013 to test the water for financial reforms.
The decision to trial individual investment overseas was made following a financial symposium Premier Li held last week, where he said financial reforms would not be held back due to market turbulence.
China issued its first yuan-dominated bonds in London on Tuesday, a major step in the internationalization of the currency. The country is also in talks with the United Kingdom to launch a stock trading link between the Shanghai and London exchanges.
Mei said the government's policies are geared toward a more open economy with a convertible currency.
Financial reforms
Wednesday's meeting also approved a package of policies aimed at pressing ahead with financial reforms in the Shanghai FTZ.
These include gradually improving the yuan's convertibility under the capital account, promoting cross-border use of the currency and setting up international trading platforms for financial assets, such as foreign reserves and securities.
It also approved a long-awaited regulation to reform China's hukou, or household registration system, which will eventually help with migration between rural areas and cities.
The regulation requires local governments to introduce rules to help migrating residents gain hukou by earning points through their contribution to local communities, such as paying taxes.