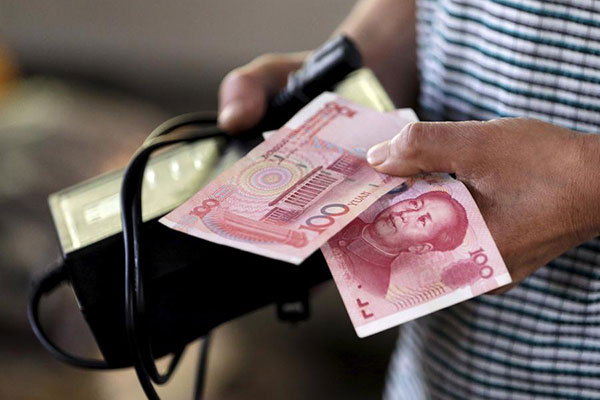 A customer holds a 100 Yuan note at a market in Beijing, August 12, 2015.[Photo/Agencies]
The internationalization of renminbi relies on market force, and will see an increasing trend for renminbi loans and China's outbound direct investment (ODI), said a central bank official on Monday.
As the country has entered the stage of investing outward, renminbi-denominated loans and investments serve well to facilitate such demands, Yao Yudong, dean of Financial Research Institute at People's Bank of China, said at the 2015 Beijing Forum for Emerging Markets.
In the first eight months this year, China's capital account saw a 59 percent increase in transactions to 3.25 trillion yuan.
Renminbi investments will play a significant role in China's economic cooperation with emerging markets, especially in infrastructure, said Yao.
He noted renminbi has become the second most widely used currency in trade and finance, and ranked fourth in payment, sixth in international inter-bank loans as well as new bond issues, seventh in foreign exchange transactions and eighth in terms of outstanding international bonds.
"It would be difficult to believe 60 years ago when renminbi accounted for only 1 percent of the world's trade settlement that the figure now rises to about 26 percent," Yao said.
Under the Shanghai-Hong Kong Stock Connect program, the mainland equity market saw an inflow of 42.7 billion yuan in the first eight months, with 93.6 billion yuan outflow to buy Hong Kong shares.
Market force has its own vitality, and as the yuan becomes more and more internationalized, it will depend on the offshore market to play an efficient role, Yao added.