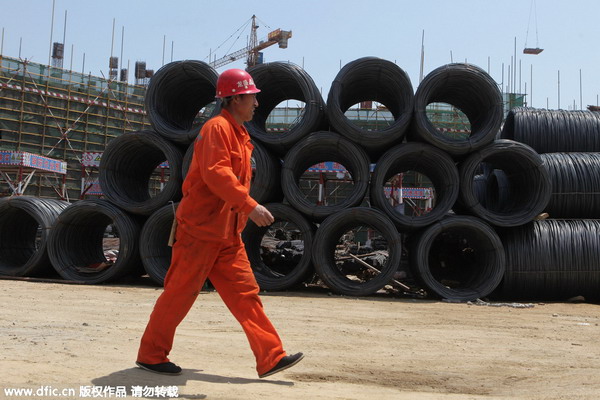 A Chinese worker walks past a stack of coiled steel rods on a quay in Rizhao city, East China's Shandong province, April 29, 2015. [Photo / IC]
Industry official says issues due to diminishing competitiveness, inability to adapt to changes 
Fading steel industry competitiveness, rather than China, is responsible for the job losses in the United Kingdom, a top steel industry official said on Wednesday.
Li Xinchuang, deputy secretary-general of Beijing-based China Iron and Steel Industry Association, said that it was unfair that the media coverage in the UK had turned a blind eye on China's job creation in the country.
Li was responding to media coverage in the UK and the United States that the latest cuts, by Tata Steel of more than 1,200 jobs, resulted from China's low-priced steel exports.
Statistics from UK Steel, an industry association, show that the UK imports about 60 percent of its steel requirements. China accounts for about 8 percent of that total.
"It is unreasonable to blame China for Tata Steel's redundancy," Li told China Daily.
The British media reports failed to offer detailed price information or import statistics, and ignored the fact that Chinese investment has already helped create about 5,000 jobs in the UK during the 2014-15 financial year.
Huawei Technologies Co Ltd has already created 7,000 direct and indirect jobs in the UK since it entered the British market in 2010.
The UK has become the top investment destination for China in the European Union and the two countries are expected to sign multi-billion-dollar trade and investment agreements that will create more jobs in the UK.
Due to the economic slowdown, Li said the global steel market is weak at present, which has made competition fiercer.
He said Chinese steelmakers can provide high-quality products and services at competitive prices.
"It is useless to blame China for other competitors' high costs and low efficiency, which cannot solve their essential problems."
Li said the European steel companies' high costs are the main reason for low profits. "If they cannot raise efficiency, they will lose market share."
The UK must "make adjustments" to keep up with the rapidly changing global economy, Chinese ambassador to the UK Liu Xiaoming told ITV News when responding to the steel job cuts.
"If you continue to stay with your old, traditional business, you're losing money and opportunities ... China is making adjustments-why not the UK?" said Liu.