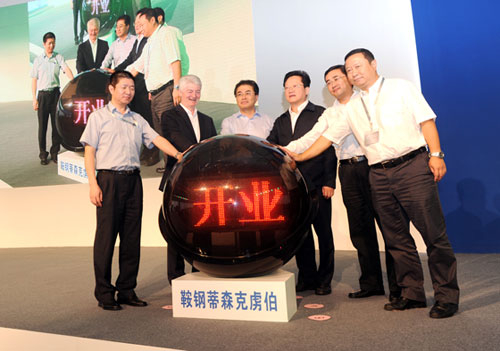 The opening ceremony of Ansteel Thyssenkrupp Auto Steel Company. [Photo/liangjiang.gov.cn]
Ansteel Thyssenkrupp Auto Steel Company entered operations on Sept 13 in Liangjiang's Yufu Industrial Park.
According to the Liangjiang administrative committee, the first stage project of the auto steel company received a total investment of 1,200 million yuan ($188.40 million).
The money will go towards funding a car plate production line capable of producing 450,000 tons annually. The company will also make efforts to promote Chongqing municipality's auto parts supply chain.
Wen Jieming, deputy mayor of Chongqing municipality and Ling Yueming, director of the Liangjiang administrative committee attended the company's opening ceremony.
Ling stated in the ceremony that the auto industry is Chongqing is a competitive industry. In the first half of this year, Chongqing's auto production volume reached 1.55 million units, making Chongqing one of China's largest auto production areas.
"With five years of construction, Liangjiang New Area has laid a good foundation for its development of auto industry," said Ling.
From January to July, the auto production volume of Liangjiang New Area reached 1.21 million, a year-on-year growth of 17. 2 percent.
In June, Beijing Hyundai Motor Co began constructing a new plant in Liangjiang, thanks to a 13 million yuan investment fund. As a pilot industry in the new area, the automobile industry has experienced growth in recent years and the production of auto accessories has developed rapidly.
Edited by Jacob Hooson