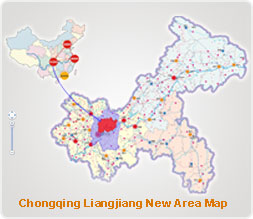 Liangjiang New Area is China's first inland national-level new area. It covers an area of 1,200 square kilometers, including regions of Jiangbei, Yubei and Beibei districts. Liangjiang's permanent resident population was 2.7 million people in 2020.
The new area is accelerating the construction of an inland gateway for opening-up and an intelligent city, striving to become a leading area for high-quality development and a demonstration area for high-quality living.
Liangjiang has formed two 100-billion-yuan-level ($15.46 billion) pillar industries out of the automobile and electronic information sectors. It has also created several emerging industrial clusters focused on equipment manufacturing and biomedicine, as well as a service industry system supported by finance, logistics, the service trade, commerce, tourism and expos.
Liangjiang's open economy development ranks among the top in Chongqing. By developing opening-up platforms such as Guoyuan Port, Lianglu Cuntan Free Trade Port Area, Chongqing International Expo Center, Jiangbeizui central business district and Cuntan International New Town, Liangjiang is home to half of Chongqing's Fortune Global 500 companies and has contributed to two-thirds of Chongqing's cross-border e-commerce trade.
The area has also seen significant achievements in big data and intellectualization development by constructing Liangjiang Coordinative Zone, Lijia Intelligent Park and Liangjiang Digital Economy Industrial Park. It has attracted 320 R&D platforms above the municipal level, 40 incubators for innovation and startups, 507 high-tech enterprises and 2,219 scientific and technological enterprises.
Liangjiang, which takes scientific and technological innovation as its top priority, is currently home to over 40 research institutes, over 600 high-tech enterprises, over 3,000 technology-based firms and more than 6,000 digital economy corporations,according to statistics collected by the end of 2021.