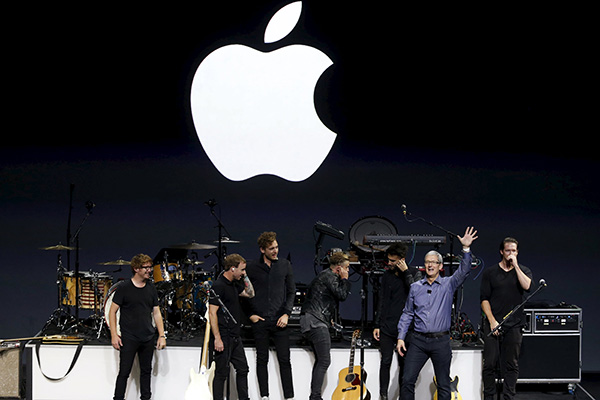 Apple Inc's CEO Tim Cook waves to the audience after a media event in San Francisco. Cook introduced a fair number of new devices at the event. [Photo/Agencies]
BEIJING - Apple will continue to invest in China, "a superb place" where the US high-tech giant is "as aggressive as ever," said Apple chief executive Tim Cook on Wednesday.
Cook recently joined the Paulson Institute's CEO Council of Sustainable Urbanization and is in Beijing for a meeting of the institute on Thursday.
"I know some people are worried about the economy. We'll continue to invest," Cook said in an exclusive interview with Xinhua.
"If you look at the long term, it is clear that China is such a great place to be," he said.
"China is a superb place to be. Nothing has changed that," he said.
Apple will open its 25th Apple Store in greater China this weekend, closing the gap on the eventual goal of 40 stores by mid-2016.
"When we reach this [goal], we will not take our foot off the gas at all," he said.
Cook's visit coincides with China's first mass entrepreneurship and innovation week, which kicked off on Monday in eight cities including Beijing, Shanghai, and Shenzhen.
Currently there are 1.5 million developers in China working on iOS-related projects.
"Many people in the country start their own business," said Cook, adding that many others are hiring, and beginning to deliver their products to millions, in some cases hundreds of millions, of people.
"They are the engine of the economy," he said.
On Wednesday afternoon, Cook met a Chinese developer who leads an 11-member team that is developing an application on traditional Chinese wood joints, which are used for furniture and architecture.
Downloads of the application have almost hit 1 million; It has wide appeal, from students to art and design practitioners.
Sun Yong, the developer, said his company, Tag Design, was profitable just three years after it was founded.
Sun is among thousands of Chinese developers who have earned more than $4 billion selling their 230,000 apps globally, more than half of which paid out last year, according to Apple.
The number of paid iOS app developers increased by 56 percent last year. iOS-based project development has facilitated the creation of 1.4 million jobs, almost half of the 4.4 million jobs Apple has created in China.