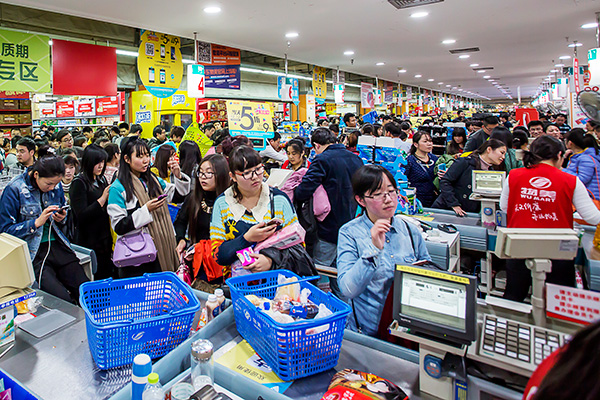 An outlet of Wumart Stores Inc in Hangzhou, capital of Zhejiang province. The retail chain operator said on Oct 20, 2015 that it was delisting its H shares from the Hong Kong bourse amid uncertain market conditions for hypermarkets in the Chinese mainland. [Photo/China Daily]
Retail chain operator Wumart Stores Inc said on Tuesday that it was delisting its H shares from the Hong Kong bourse amid uncertain market conditions for hypermarkets in China.
It said trading in its shares was halted on Oct 5, at HK$3.27 ($0.42). At that closing price, the total market value of the hypermarket operator was estimated at about HK$1.75 billion, or 1.44 billion yuan ($226.4 million).
Wumart was first listed on the Growth Enterprise Market of the Stock Exchange of Hong Kong Ltd in November 2003. That listing was subsequently transferred to the mainboard of the Hong Kong Stock Exchange on June 30, 2011.
The company owns the largest hypermarket chain in northern China and has a 35 percent market share in Beijing. However, of late, the company has been facing stiff challenges such as rising labor costs and rents and fierce competition from online and offline peers, according to its statement.
Wumart's delisting plan came as the country's retail market is also facing a slowdown. Jason Yu, general manager of Kantar Worldpanel, commented in the China Shopper Report released on Monday that many retailers have been badly hit by the slowdown in the Fast Moving Consumer Goods market.
FMCG growth slowed to 5.4 percent in 2014, compared with 11.8 percent in 2011.
Along with the slowdown, many retailers have witnessed negative same-store sales growth, prompting them to change direction and reconsider expansion plans, with some even closing stores, said Yu.
While Wumart has been relatively successful in growing its business in its home turf in the north, it also faces challenges like rising costs and increased competition from smaller format stores and e-commerce, he said.
"Consequently, it is a wise move to privatize its business so that the management can focus less on investing in the future," he said.
Wumart posted total revenue of 1.16 billion yuan for the first six months of this year, up 11.9 percent compared with the same period a year ago. Most of the sales growth came from newly opened stores, growth in comparable store sales, higher revenue from suppliers and better rental income.
Net profit for the period was about 246.9 million yuan, a 19.5 percent decrease from the 306. 6 million yuan recorded for the same period in 2014.
Wumart has a network of 586 stores, comprising 180 superstores and 406 minimarts, which were either directly operated or operated and managed through franchise agreements as of June 30, this year.