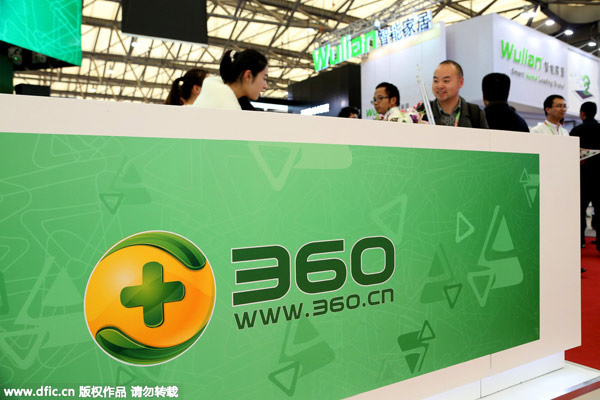 People visit the stand of Qihoo 360 during the 2015 Appliance and Electronics World Expo in Shanghai, Mar 13, 2015. [Photo/IC]
China's biggest Internet security services provider, Qihoo 360, has become the latest and largest Chinese company seeking to delist from the United States stock market.
It is attempting to cash in on bullish sentiment and high valuations at home.
A consortium led by Zhou Hongyi, the company's chairman and chief executive, made a preliminary nonbinding proposal on Wednesday to take the company private for $77 per share.
Citic Securities and Sequoia Capital China are also part of the consortium, and the decision was announced by Qihoo after the US markets closed.
The bid represents a 17 percent premium over Qihoo's previous close in New York and a 32.7 percent premium over the average of the past month. The buyout offer is estimated to be about $9 billion.
If successful, it will be the largest privatization deal in the US by a Chinese company to date, overtaking Focus Media's $3.7 billion management-led buyout in May 2013.
Zhou said in a corporate internal e-mail on Wednesday: "This is a strategic decision made by carefully weighing the global and Chinese capital markets. Many of us believe Qihoo's current capitalization of $8 billion does not sufficiently represent the value of this company."
This year, Chinese companies listed in the US, most of which are Internet technology-based, have been rushing to return to the home market, where the valuation gap between US and domestic listings has widened further.
Social network operator Renren and online dating website Jiayuan.com have also received proposals to go private, while online game developers Perfect World and Shanda Games have decided recently to delist in the US.
The Qihoo deal would bring the value of Chinese companies in the US going private to $22.4 billion this year, according to data provider Dealogic. The figure is nearly double the amount for the previous six years combined.
Zhao Rui, a technology, media and telecommunications analyst at Guotai Junan Securities, said, "The major motive behind this wave of returns to China is the widening valuation gap."
Central government policy has also led to companies deciding to return home, with the State Council issuing statements to support companies with "special shareholding structures" to go public on the domestic market.