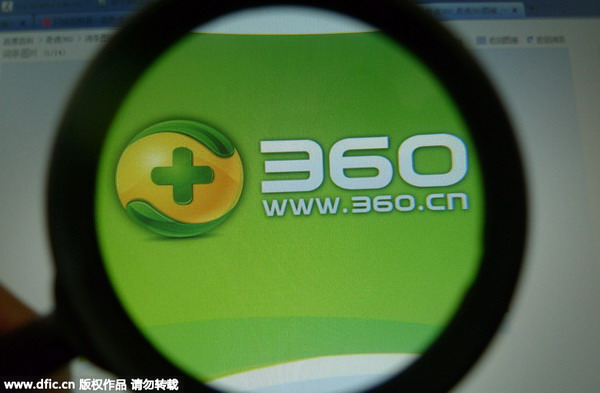 A netizen browses the signage of 360.cn of Qihoo 360 in Tianjin, China, March 28, 2013. [Photo / IC]
Qihoo 360 Technology, a Chinese Internet company listed on the New York Stock Exchange in 2011, is to quit tests run by AV-Comparatives after the two couldn't agree on testing standards.
AV-C's traditional standards have been out of date and couldn't meet users' demand in the age of cloud security, Qihoo claimed during a media briefing on Monday, which could be the reason why Symantec and Comodo, among others, chose to quit earlier, it suggested.
AV-C has yet to respond to Qihoo's accusations.
Qihoo was recently accused of cheating when submitting security products for comparative and certification testing to AV-Comparatives, together with another two global testing bodies.
In a joint announcement on Thursday, the world's three most renowned and trusted security testing bodies - AV-Comparatives, AV-TEST and Virus Bulletin – revoked all certifications and rankings awarded to the Chinese company's products since the start of this year.
The move came as investigations by the three labs found that security products provided by Qihoo for testing "behaved significantly differently from those made available to its users and customers".
The announcement pointed out the version for testing uses an antivirus engine licensed from BitDefender while the version shipped to consumers uses Qihoo's own QVM engine.
"This would provide a considerably lower level of protection and a higher likelihood of false positives" for users, it said.
The machine learning cloud QVM engine, or Qihoo Support Vector Machine, is the first home-made security product developed by Qihoo 360. The engine, together with BidDefender, outran others during a ranking released by the three labs last month.
Qihoo said in an earlier statement that it was "unacceptable" that the three labs shifted their attitudes and made such accusations in a bid to protect companies which may have felt threatened as the company has stepped up efforts to go global.
The company said its free security products, a game-changer in providing security solutions, had always kept good records during previous testing in past five years run by the same three labs.
Qihoo more than doubled its revenue, taking $1.39 billion in the 2014 financial year ending Dec 31, with a penetration rate of its products and services reaching 96.1 percent, according to the company's financial report released on March 10.
A different rebuttal, which one to trust?
Qihoo's announcement in China, however, was completely different from the one written in English released earlier on its official blogging site (blog.360totalsecurity.com) shortly after AV-C's announcement.