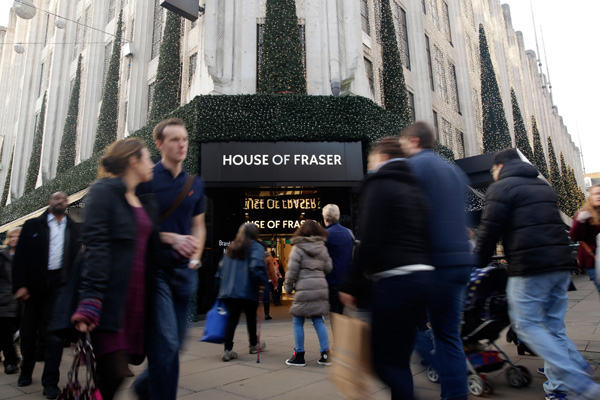 Pedestrians walk past a House of Fraser department store on Oxford Street in central London. The British retailer plans to open its first shops in Chongqing municipality and cities of Nanjing and Xuzhou in Jiangsu province next year. [Photo/Agencies]
For foreign retail brands that aim to enter China, the growing second-and third-tier cities can be sources of new growth. But it is important that the brands be well-known and attractive.
And as e-commerce is booming in China, online and offline operations should go hand-in-hand.
Thanks to higher wages, increasing urbanization and improved living standards, the rise of the Chinese consumer became an increasingly important story over the past decade.
Global consultancy firm McKinsey & Co estimated that 75 percent of China's population will be classified as middle-class consumers by 2022, compared with just 4 percent in 2012. China will surpass the United States as the world's largest retail market within the next three years, according to a report by PricewaterhouseCoopers LLC and the Economist Intelligence Unit released in February.
Retail sales growth will hit 7.9 percent by 2018, compared with 2.6 percent for North America and a global average of 3.4 percent, the report said.
While many foreign companies and brands have focused on first-tier cities such as Shanghai, Beijing and Guangzhou, China has many second-and third-tier cities that are among the world's largest urban retail markets. But many foreign companies have yet to tap into these markets.
The lower-tier cities are not so developed as first-tier ones, but they are less saturated markets. Nonetheless, they have many increasingly sophisticated and well-heeled consumers.
People in these cities have a strong interest in spending on higher-end products and services, and they are open to trying new as well as famous brands.
The lower-tier cities are experiencing retail growth that is even faster than in the first-tier cities.
For example, Digital Luxury Group, an international branding company, found that in western China, largely comprised of third-tier cities, more people are searching for high-end brands than in first-tier cities including Shanghai.
The majority of China's emerging urban middle class resides in cities outside the first-tier ones. As a result, foreign retailers have begun to broaden their search for growth by expanding into less-developed regions.
Some foreign retailers even skip the first-tier cities and head straight for the lower-tier ones.