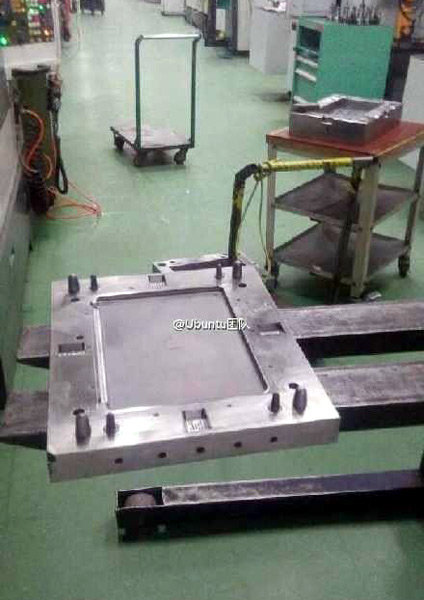 The photo of the mould posted on SinaWeibo reportedly taken at Apple manufacturer Foxconn's factory in China. Experts estimate that the mould would produce a tablet that would be 12 inches in height, 8.7 inches wide and 0.27 inches deep (305.3mm x 220.8 mm x 7mm).
Apple is working on a larger iPad which will feature a number of changes, including an all-new Bluetooth stylus accessory with pressure sensitivity, support for Force Touch input, and a USB-C connector, according to technology website AppleInsider.
"The timetable for release for this device is unknown, but a number of features entirely new to the iPad lineup are included," said AppleInsider, citing a person familiar with the matter.
According to the report, the company is working on an all-new iPad with a larger 12.9-inch display.
The source said that Apple is expected to include a Near Field Communication radio, in the new 12.9-inch iPad that could allow for the device to serve as a payment receiving terminal for Apple Pay.
The source also indicated that the jumbo-sized iPad will sport a new touchscreen with improved touch latency. It is said that this will improve the experience when used with a new Apple-built Bluetooth stylus.
Apple has already initiated talks with China's UnionPay, which has helped set NFC standards and initiated a secure platform for banks to load card holder's account information into NFC-enabled phones, reported China Daily in March.So far, no more details have been released and Apple Pay is still not available in the Chinese mainland.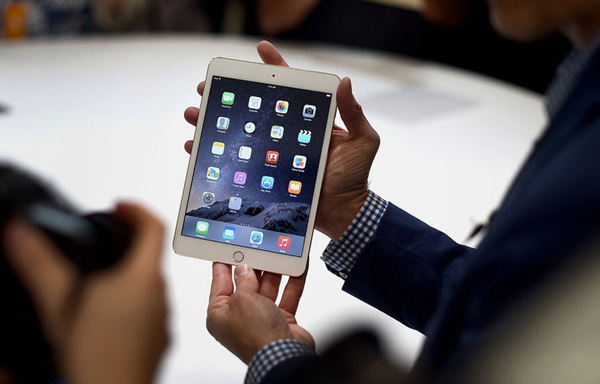 A member of the media displays an Apple Inc iPad Mini 3 for a photograph after a product announcement in Cupertino, California, US, on Oct 16, 2014. Apple Inc unveiled a new iPad, in the second wave of Tim Cook's biggest product push as chief executive officer and just ahead of the holiday shopping season. [Photo/CFP]
By comparison, the previous iPad Air 2 launched last year is 9.4 inches by 6.7 inches by 0.24 inches (240mm x 169.5mm x 6.1mm).
The iPad Air 2 has a 9.7-inch display, while the iPad Pro is rumored to have a 12.2-inch screen, same as Samsung's Galaxy Note Pro that was launched in February.
Recently, an image showed a sketch, also reportedly leaked from Apple's equipment manufacturer, Foxconn, by French website Nowhere Else, that had previously leaked details from unannounced Apple devices that proved to be true, showed that the new tablet will look similar to the iPad Air 2 in design, with rounded corners and the same standby button, rear camera, microphone and volume buttons placement.
Japanese magazine Mac Fan claimed in December that the new iPad will feature a much faster A9 processor and is set to launch between April and June.
A recent report from The Wall Street Journal said that the Californian firm had postponed mass production of the larger iPad from December 2014 into next year as suppliers struggled to meet demand for the launch of iPhone 6 and 6 Plus.
According to Xinhua News Agency, China's tablet market will face great challenges after years of high growth, citing market intelligence firm International Data Corporation (IDC).
IDC predicts that the shipments of tablet in Chinese market will reach 29.34 million units in 2015.
In the first quarter of this year, iPad's shipments volume surpassed other competitors around the world with 12.6 million units, although the figure saw a 22.9 percent decrease year-on-year, said IDC.
According to IDC, due to the increase in sales of iPhone 6 and iPhone 6 Plus, the shipments of the existing iPad will keep falling until an upgrade in the production line.
Phablets, a term given to smartphones with a screen size of 5.5 to 6.99 inches, with a constantly declining price, are becoming more attractive than tablets in small cities in China.