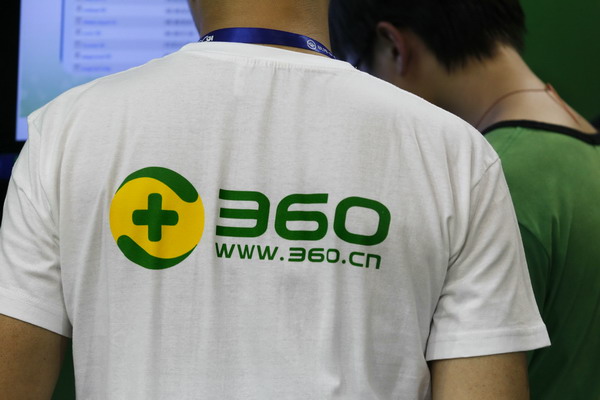 The logo of Qihoo 360 is seen on a T-shirt. The Chinese company is being investigated by US law firm Pomerantz LLP after being accused of cheating in security products by world's three major testing labs. [Photo by Da Wei / Asianewsphoto]
Pomerantz LLP said on Monday that it was looking into the claims on behalf of investors of Qihoo 360 Technology after world's three major testing labs accused Qihoo 360 of cheating in security products.
The investigation centers around whether Qihoo 360 and certain of its officers and/or directors have violated Sections 10(b) and 20(a) of the Securities Exchange Act of 1934, according to the announcement originally distributed via SproutNews, a US third-party content provider.
On Thursday, three of the world's most renowned security testing bodies - AV-Comparatives, AV-TEST and Virus Bulletin - issued a joint statement alleging that the Chinese Internet company submitted a version that was engineered for testing and different from that offered to consumers with a "considerably lower level of protection".
And all awards and certifications granted to the company since the start of this year will thus be revoked, claimed the three labs.
Shares of Qihoo 360, listed on the New York Stock Exchange in 2011, fell $1.09 per share, or more than 1.7 percent, to close at $60.30 on the news Thursday.
The company fought back shortly after AV-C's statement, saying the reason why the three agencies were making such accusations was to protect companies that may have felt threatened as Qihoo, with its game-changing free security products and services, has been on fast-track to go global.
The company said in the public version the third-party engine has been switched off by default as majority of its users have lower computing power. But the default was removed to satisfy lab conditions.
"In any case, no alleged comment indicates that the level of protection from the product is lower than the records achieved during the testing sessions," said the company.
During a media briefing in Beijing on Monday afternoon, the company announced that it had decided to quit AV-C tests on grounds that the testing lab's testing standards lag far behind the age of cloud security and the two couldn't agree upon a new set of standards.
According to an earlier report by Xinhua News Agency, Qihoo 360 had said that there have been 20 million PC downloads and 100 million mobile devices downloads from the company's website by users outside China, and the company has more than 1 billion users worldwide.
Shares of the US-listed company gained slightly to close at $61.39 on Monday.
Related reading: Where did all this come from?
AV-C, joined later by the other two testing bodies, has launched investigations since late April as it "uncovered an infringement of the testing agreement by one of the vendors participating in its tests".