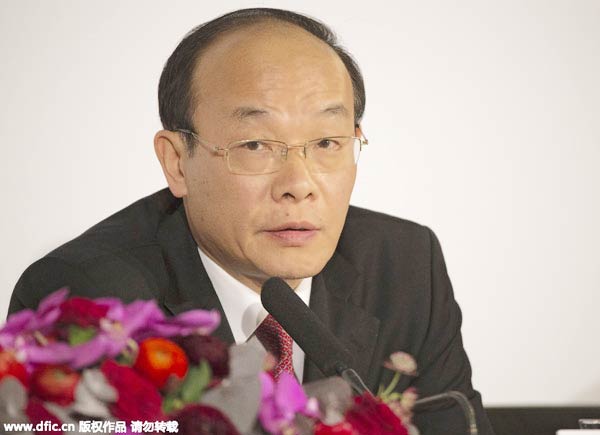 Xu Ping, chairman of Dongfeng Automobile Co, March 26, 2014. [Photo/IC]
Dongfeng Automobile and FAW Car halted trading of their shares starting Tuesday after local media reported the appointment of new chairmen for both companies, and their share prices surged, hitting the 10 percent daily limit during Monday trading.
Rumors also said a merger between the two carmakers is in the pipeline, after reports citing insiders that Xu Ping, 58, Chairman of Dongfeng, is to fill FAW's chairman vacancy soon. FAW's former chairman Xu Jianyi has been under investigation for corruption since March 15.
Dongfeng's Hongkong listed arm Dongfeng Motor Group Co Ltd declined the merger rumor on Tuesday.
Local media reported that the appointment announcements are due to be released on Thursday and Friday.
The Shanghai Stock Exchange listed Dongfeng Automobile Co Ltd opened yesterday at the daily limit and sealed the trading board at 8.58 yuan ($1.40), 10 percent higher than the position of the last trading day, April 30.
The Shenzhen listed FAW Car Co Ltd fluctuated several hours between a 5 and 10 percent rise, and finally closed at its daily limit, 25.87 yuan on Monday. Its subsidy Tianjin FAW Xiali Automobile Co Ltd also halted trading from Tuesday.
Xu entered the Second Automobile Works, the predecessor of Dongfeng, in 1982 after graduating from Hefei University of Technology, and has been chairing the company for almost 10 years since June 2005.
Dongfeng's chairman position would be taken over by Zhu Yanfeng, the 54-year-old deputy secretary of the CPC Jilin Provincial Committee, according to anonymous sources.
Zhu was former general manager of FAW from 1999 to 2007. He joined the Jilin province-based carmaker from 1983 after graduating from Zhejiang University, and became the general manager in 1999. In 2007, he was appointed as vice-governor of Jilin province, and elected as deputy secretary of the provincial party committee in 2012.
FAW's former chairman and deputy general manager were tried and sentenced in 2012.
Last year, it was announced that Dongfeng's vice-president was under investigation, and a total of 55 former management team members in the group were announced to have violated the law, including executives in the passenger car company, the Dongfeng Honda joint venture and other subsidiary companies.