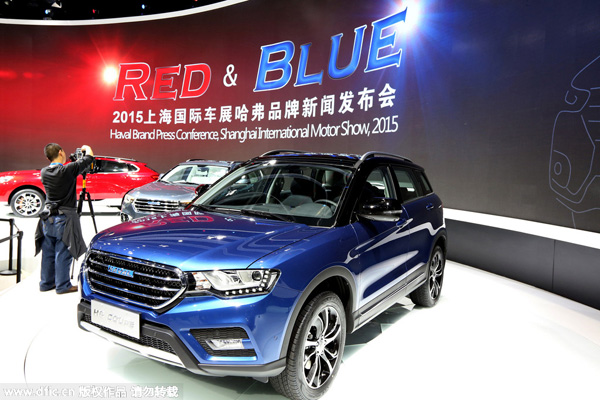 Great Wall's Haval H6 displays during the 2015 Shanghai International Automobile Industry Exhibition. [Photo/IC]
SHANGHAI - Having lost market share to foreign competitors in the past year, Chinese car makers have come out fighting at the ongoing Shanghai Auto Show.
Instead of cheap knockoffs, domestic brands have brought upmarket models to the 2015 Shanghai International Automobile Industry Exhibition, the largest car show in China, which is also the largest car market in the world.
Dongfeng Motor has unveiled an impressive mass-production sedan that was no more than a concept at last year's Beijing Auto Show. The Guangzhou Auto Trumpchi GA8, arguably the most beautiful Chinese sedan ever built, has also debuted.
Geely Automobile, which bought Volvo in 2010, revealed a complete version of its flagship GC9 sedan, which has been selected as the official limousine of the Chinese Foreign Ministry.
Great Wall launched a sport utility vehicle (SUV) that was used by the only Chinese team in the Dakar Rally.
With this year's show taglined "Innovation for Upgrading", visitors to Shanghai's National Exhibition and Convention Center between April 22 and 29 are witnessing the improvements that Chinese brands have been making in recent years.
Jia Xinguang, standing director of the China Automobile Dealers Association, said Chinese car makers can now justify charging more for their models, having broken the "glass ceiling of 100,000 yuan ($16,105)" as a result of more sophisticated design and manufacturing.
Steady improvement vs. poor performance
US automotive industry consultancy JD Power said in its "2014 China Initial Quality Study" that Chinese auto makers have narrowed the gap with international brands in producing reliable vehicles.
The performance of some Chinese brands, including GAC Motor, Venucia, Roewe and Luxgen, bettered the industry average, according to the annual survey, which examined mechanical and design problems experienced by more than 21,000 Chinese buyers of new cars within the first two to six months of ownership in 51 Chinese cities.
The domestic and global brands will be on parity in terms of quality before the end of 2018, JD Power predicted.
However, as Chinese auto makers are trying to emerge as global players, they are also struggling to compete with big foreign names at home.
According to the China Association of Automobile Manufacturers (CAAM), Chinese brands had only a 22.4 percent share of the domestic sedan market in 2014, down 5.6 percent year on year.