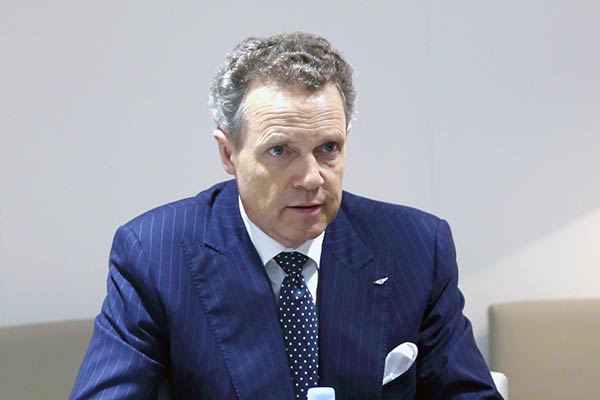 Bentley Motors Ltd Chairman and CEO Wolfgang Durheimer pictured in an interview at the Auto Shanghai 2015, April 19, 2015. [Photo / provided to chinadaily.com.cn]
British luxury carmaker Bentley is to offer its Bentayga sports utility vehicle to Chinese customers through its bespoke service, Bentley Studio, for the first time.
Chairman and CEO of Bentley Motors Wolfgang Durheimer said: "Bentayga is an extremely important car for the Chinese market, where people like higher driving positions and off-road capability. It's a crucial part of our development in China".
Market research received very positive feedback, according to the CEO.
Kevin Rose, board member for sales and marketing, said: "It will be by far the best SUV in the world," and the Bentayga will attract not only current potential buyers but also new customers.
The dealership's showrooms will be upgraded as Bentley Studios able to customize for personalized creations, and will take individual SUV orders later this year. Cars will be delivered next year.
Bentley also presented its EXP 10 Speed 6 concept cars at the on-going Auto Shanghai 2015.
The car is powered by plug-in hybrid technology in a lightweight body, material for which will be decided between aluminum-steel alloy for higher volume at a lower price and carbon fiber for lower volume at a higher price.
Laser-based 3D-feeling curve techniques are applied in thin metals installed in door handles and the interior features hand crafted leather and cherry wood.
The concept car made its world debut in March at the Geneva Motor Show in Switzerland. The widely praised elements in interior, design and color will be utilized in Flying Spur, Mulsanne, SUV and GT models.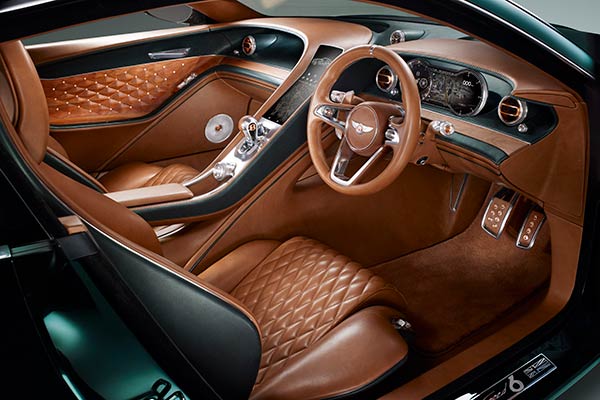 The interior of Bentley EXP 10 Speed 6 concept car. [Photo / provided to chinadaily.com.cn]