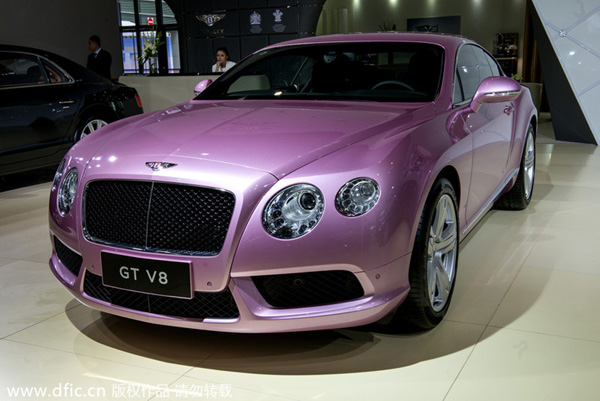 A Bentley GT V8 is displayed during an automobile exhibition in Chongqing, Southwest China Sichuan province, June 11, 2014. [Photo/IC]
LONDON - Bentley Motors, British luxury car brand owned by Germany's Volkswagen, Wednesday announced in London that its global deliveries in 2014 grew by 9 percent to 11,020 cars, up from 10,120 cars in 2013 and marked another year of record sales.
The Crewe-based car maker said it saw strong performance in the key regions of the Americas, China, Europe including Britain, and Middle East, with the Americas retaining its position as Bentley's number one market, followed by China with a closer gap.
Data shows that markets in the Americas delivered 3,186 cars in 2014, up from the 2013 number of 3,140. It accounted for 29 percent of Bentley's total global deliveries. China was acting as the main engine of Bentley's sales growth, with 2,670 cars delivered, higher the previous year of 2,191.
In Europe, Bentley's deliveries were up by four percent to 1, 539 cars. In its home market Britain, Bentley delivered 1,387 cars, up from 1,381 cars in 2013. Over the same period, markets in the Middle East and Asia Pacific both saw record high, it said.
"Growing appeal of the brand, with the launch of new models drove this success. The Continental GT V8 S and GT Speed coupe and convertible and Flying Spur V8 all entered the market in 2014," noted Bentley.
Wolfgang Durheimer, Bentley's Chairman and CEO, said: "2014 marked an exceptional year for Bentley, as our record breaking pattern continued. We delivered more cars than ever before, and we now operate in more markets than at any point in our 96 year history."
Durheimer also announced that it will finish its final test and debut its luxury SUV within this year.
Earlier this weak, Rolls-Royce Motor Cars, another British luxury car brand owned by BMW, announced that it has seen a record 4063 cars delivered last year. And it is set to decide during 2015 if it will create a rival to Bentley SUV.