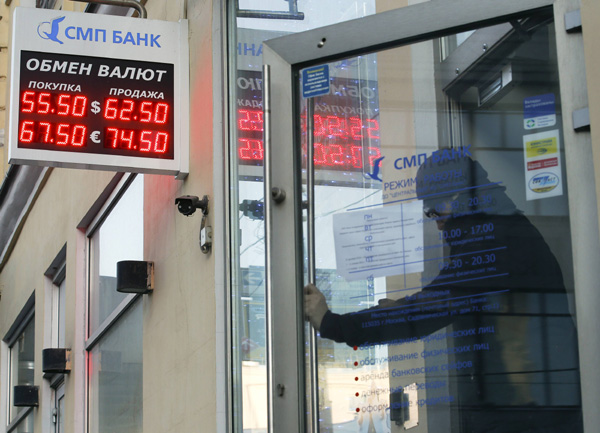 A man walks out of a bank office, with an electronic board showing currency exchange rates seen above, in central Moscow, January 6, 2015. [Photo/Agencies]
Fears of a full-blown crisis in Russia have sent global financial markets into turmoil. First the Baltic Dry Index, a leading international trade barometer, set new lows in a row; and then commodities, including iron ore, copper and oil, saw their prices drop.
On the foreign exchange markets, except for Chinese yuan and US dollar, other currencies, including rouble, rupee, bath and even currencies that used to be strong, such as euro, Australian dollar and British pound, all fell. Sensing that the world markets were on the brink of collapse, some Chinese and foreign economists warned that the "1997 financial storm" was coming back. Where on earth is the world economy heading? What has disrupted the normal order?
First, the US economy is taking off in an all-round manner, and an interest rate hike is expected by the markets. At the last meeting of the Federal Reserve's policy-making Federal Open Market Committee in mid-December 2014, the Fed did not give a clear timetable for raising interest rates, but neither did it repeat the statement of keeping interest rates near zero "for a considerable time" as it did in the previous year, which is enough to indicate that the Fed is well prepared to raise rates.
A bull market in the US dollar is underway and other currencies are all dropping. In 2014, the US Dollar Index rose by 12 percent, the highest growth in nine years. Amid market expectations of higher rates in the near future, the US dollar will likely continue to strengthen.
On the other hand, the dollar is flowing back to its homeland, accompanied by worldwide funds movements. In the backdrop of a strengthening dollar and an approaching US interest rate hike, the costs for forex arbitrage transactions have increased significantly and returning home is the only choice left for the dollar. Non-dollar currencies were on a losing streak recently, which partially signaled that trend.
In addition, energy overcapacity has made commodities less impressive than before. Overcapacity in oil and iron ore on world commodity markets is the bitter pill resulting from energy companies' excessive expansion when the world economy was still growing before it headed for a recession.
The slump in Russian rouble shocked global financial markets, for which Chinese enterprises, such as the domestic auto company Zhejiang Geely Holding Group, paid a heavy price. Facing complicated situations, China is advised to take preventative actions against a possible blow by the financial tsunami looming large.
China also should accelerate its ongoing industrial restructuring and continue to push ahead with the new technology revolution, among a series of many other effective policy measures to stimulate economic and social vitality again in this country, thus laying a solid foundation for future prosperity.
The author is a certified financial planner and independent commentator. The views do not necessarily reflect those of China Daily.