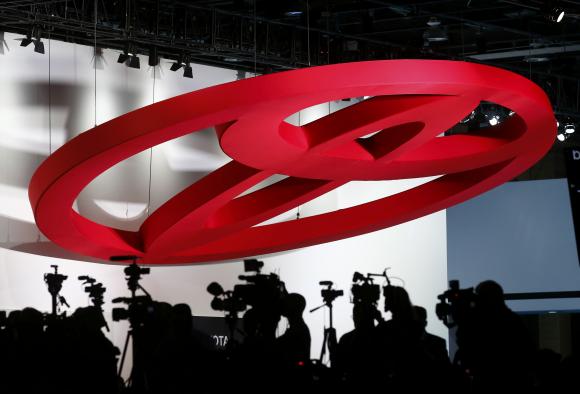 Members of the media are shown under a large Toyota logo during the first press preview day of the North American International Auto Show in Detroit, Michigan, January 12, 2015. [Photo/Agencies]
Toyota Motor Corp is ending a three-year freeze on building new vehicle assembly plants and is looking to open two new assembly plants in China and another in Mexico, four executives familiar with the company's plans said.
The Japanese automaker has already completed initial feasibility studies in both China and Mexico, according to those executives, and "the teams are ready to execute," as one of them put it. The sources spoke over the last few weeks.
Jim Lentz, head of Toyota's North American operations, said on Monday that after "a three-year hold" on new capacity investments, the standstill is over for Toyota. Lentz, who spoke on the sidelines of the Detroit auto show, would not comment on specific plans to add production capacity in Mexico or China.
"We're going to grow again. We will climb the staircase," he told Reuters in an interview. "But it's a different way than in the past. It's not going to be growth for growth's sake."
Toyota's Chinese operations are evaluating plans to build two assembly plants - one in the northeastern city of Changchun and the southern city of Guangzhou where the company already produces cars. In Mexico, Toyota is looking at a site for a passenger car plant in and around the central state of Guanajuato, people familiar with the plans said.
"The only thing we are waiting for is a final green light from the top," said one of the executives who is a senior manager in China. The situation is more or less the same in Mexico, he said. All four Toyota executives who spoke to Reuters declined to be identified because they are not authorized to speak to reporters.
A renewed expansion drive by Toyota, the world's largest automaker, would put more pressure on rivals, including General Motors Co and Volkswagen AG, in a global automotive marketplace still burdened by excess capacity.
Immediately after the financial crisis, big automakers were cautious about adding production capacity. Now, with demand in the United States back at pre-recession levels and China's auto market growing, albeit more slowly, automakers are announcing more expansion plans.