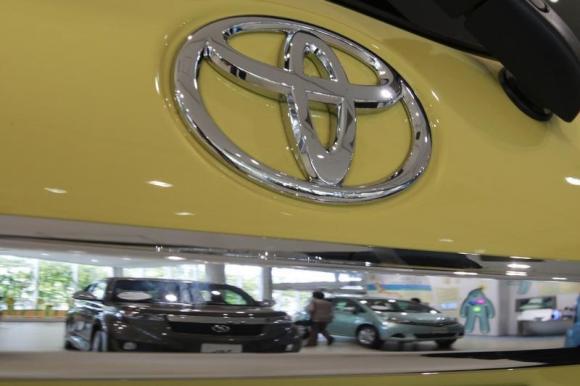 A visitor is reflected in a Toyota Motor Corp's vehicle displayed at the company's showroom in Tokyo September 26, 2012. [Photo/Agencies]
Regulator probes pricing policies regarding spare, replacement parts
The National Development and Reform Commission, China's price regulator, has summoned executives from Toyota Motor Corp for questioning over pricing policies and practices for spare and replacement parts in its luxury Lexus division, people with direct knowledge of the matter said.
The questioning coincided with the first-ever punishments of foreign automakers for price-fixing this month, when fines were imposed on the Chinese venture of Volkswagen AG and the China sales unit of Fiat's Chrysler.
A slew of antitrust investigations encompassing a wide range of firms, including Microsoft Corp and chipmaker Qualcomm Inc, has prompted complaints from foreign officials and the business community that foreign firms are being targeted unfairly.
According to three China-based Toyota executives, the NDRC this month questioned Beijing-based executives at Lexus.
Two of the executives, who declined to be named because of the sensitivity of the subject, said the NDRC asked the Lexus leaders about the brand's spare and replacement parts policies, including pricing.
Takanori Yokoi, a Beijing-based Toyota spokesman, declined to comment on the information provided by the sources but said Toyota would cooperate with Chinese authorities if there was an investigation into anti-competitive matters.
Officials at the NDRC could not be reached for comment.
The questioning of Lexus China executives escalates the NDRC's probe into Toyota.
Earlier this year, the antitrust regulatory unit of NDRC made initial inquiries about the brand's auto parts policies via the China Automobile Dealers Association, Toyota executives familiar with the matter said, adding that the association has been conducting an industrywide survey since April.
Two of the executives with information about the NDRC's latest move said it is looking into pricing policies and practices of the Japanese luxury brand in Guangdong province.
It appears the regulator is trying to build a case against Lexus for engaging in price manipulation in connection with spare parts, they said.
But they added that it did not seem that a fine on Lexus was imminent.
"As far as I know and at this point, there is no imminent action on us," one of the executives who spoke with Reuters said. "It's been very quiet."
Last week, Hubei province's price bureau said it would fine the sales unit of Volkswagen's joint venture FAW-Volkswagen Automobile Co Ltd 249 million yuan ($40.6 million) for fixing Audi prices. The NDRC's Shanghai branch also fined the China sales unit of Fiat's Chrysler 32 million yuan for operating a price monopoly.
Other global automakers being probed for possible anti-competitive behavior include Daimler's Mercedes-Benz and Tata Motors Ltd's Jaguar Land Rover.
In response to the CADA survey, Toyota's legal department in Beijing provided over the summer written answers and evidence in "several thick binders", according to Toyota officials. The survey was capped by a visit by a CADA official to Lexus office in Beijing in late July.
Lexus sold about 73,000 vehicles in China last year. The vehicles were imported from Japan and other countries.