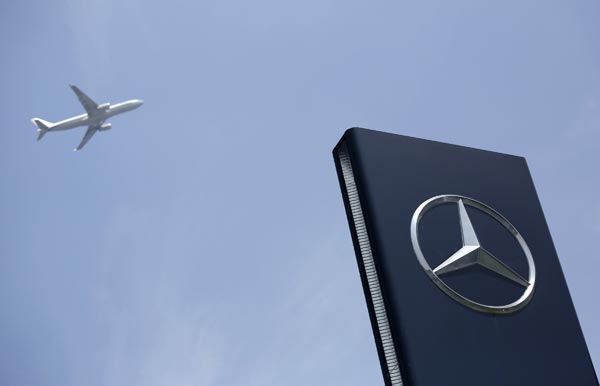 A plane flies above as a Mercedes-Benz logo is seen outside its Shanghai office, August 5, 2014. [Photo / Agencies]
Mercedes-Benz has been reportedly found guilty of vertical price fixing by the anti-monopoly investigation launched by Jiangsu Price Bureau, Xinhua News Agency reported Sunday.
"Mercedes-Benz case is a typical vertical price fixing. It manipulated the prices of spare parts and maintenance on the downstream after-sales market", the report said quoting Zhou Gao, an official from the bureau.
All spare parts of a C class Mercedes-Benz model were charged at a price equaling to 12 whole units, it said.
Mercedes-Benz said it has not received any intimation from the authorities yet, according to Beijing Times report.
Li Pumin, spokesman of the National Development and Reform Commission, confirmed earlier that antitrust officials in eastern Jiangsu province have started investigating Mercedes-Benz dealers in five cities, including Suzhou and Wuxi, while Mercedes-Benz's Shanghai office was raided by local NDRC officials.
At the beginning of August, Mercedes-Benz announced plans to cut the prices of spare parts in China by 15 percent on average in after-sales maintenance for all models from Sept 1 in response to the country's antitrust regulator's investigation.
Earlier China Daily had reported that the carmaker in July had reduced the cost of maintenance by 20 percent on average covering both smart cars and Mercedes-Benz models, including the A-, B-, C-, E-, GLK-, M-, R-, and S-Class. Reductions in some specific models could be as much as 50 percent.