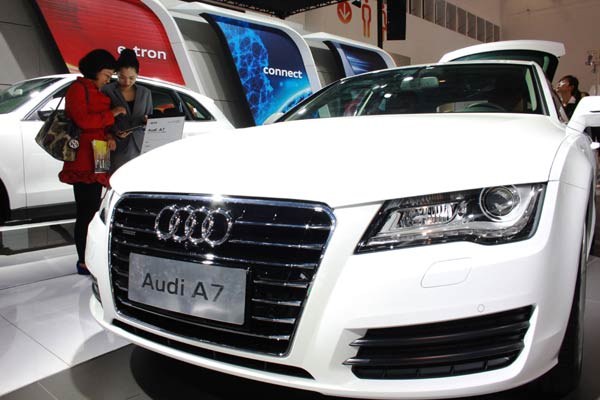 An Audi A7 is shown at an international auto exhibition in Hainai province. Major luxury car manufacturers are reducing the prices of their vehicles, parts and after-sales service under pressure from Chinese anti-trust regulator's monopoly concerns. SHIYAN/CHINA DAILY
Antitrust regulator's investigation prompts response from three giants
Major international luxury car manufacturers are reducing the prices of their vehicles, parts and after-sales service under pressure from Chinese antitrust regulator's monopoly concerns.
"Cutting prices is a business act, and the government welcomes it," said Xu Kunlin, director of the Bureau of Price Supervision and Anti-Monopoly under the National Development and Reform Commission on Monday, confirming the moves of those luxury automakers came after "they were contacted".
"Price cutting is one of their remedial measures," Xu said. "If they lower the prices to a reasonable level, that means they are sincere."
Xu told China Daily that his colleagues are collecting evidence to examine the pricing of vehicles and spare parts, but the investigation is not aimed at luxury automakers but "any companies that have such problems".
However, Xu did not provide any names of suspected monopolies, saying "it is not yet the time to give more details as the issue is not over."
British luxury vehicle manufacturer Jaguar Land Rover on Friday announced adjustments in its suggested retail price for three models available in China.
The company said in a statement that the move is in response to the investigation in the auto industry by the Bureau of Price Supervision and Anti-Monopoly of the NDRC.
It also said the adjustments are expected to strengthen competitiveness and increase market share in China's luxury auto market.
Effective on Aug 1, the suggested retail price of the Range Rover 5.0 V8, Ranger Rover Sports 5.0 V8 and Jaguar F-Type Cabriolet will be reduced by an average of 200,000 yuan ($32,323).
Regional President of Jaguar Land Rover Greater China, Bob Grace said: "As the result of our guiding principle of 'Customer First', we will do everything possible to work together with our Chinese retail dealer partners to offer customers the highest levels of support in all respects, whether that is vehicle sales or after-sales service."
German brand Audi, the sales leader in China's luxury vehicle segment, also announced on Saturday that it will cut the prices of China-made models' spare parts by up to 38 percent starting on Aug 1, in response to the anti-monopoly investigation into the auto industry.
"As a leading premium auto brand in the Chinese market, we are proactively supporting the investigation of the anti-monopoly bureau under NDRC and cutting the prices of our products to benefit our customers," said Ge Shuwen, executive deputy manager of FAW - Volkswagen's Audi division, in a statement on Audi's website.
Citing the example of the locally made Audi A6L, Ge said the prices of its spare parts combined will fall to less than three times from more than four times the model's price.
However, the statement did not mention whether there will be price cuts on original spare parts of imported Audi models.
German automaker Mercedes-Benz was the first to officially reduce the cost of after-sales for its major models by launching its Start Maintenance Menu earlier on July 1.