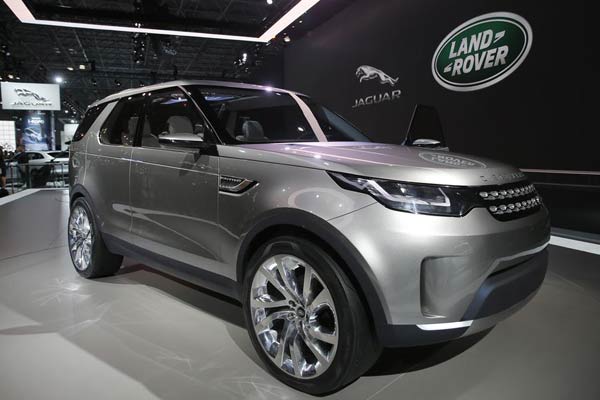 The 2015 Land Rover Discovery Vision Concept is seen on display after it was unveiled at the New York International Auto Show in New York City, April 16, 2014. [Photo/Agencies]
British luxury carmaker Jaguar Land Rover, owned by India's Tata Motors Ltd , said it planned to cut prices on three models in China due to the government's anti-monopoly probe.
Jaguar Land Rover will cut prices on the cars by an average of 200,000 yuan ($32,300) starting Aug 1, after the National Development and Reform Commission (NDRC) launched an investigation into the auto industry, the company said in a statement last Friday.
"Due to the importance of the Chinese market, Jaguar Land Rover China immediately set up a process to review our pricing and decided to voluntarily reduce the price of three models," the carmaker said.
The price adjustment will also strengthen competitiveness and increase market share in China, Jaguar said.
China's auto sector, dominated by foreign players such as Volkswagen AG and Toyota Motor Corp, has become the latest industry to be targeted by antitrust regulators, who have already punished companies in sectors ranging from milk powder to eye glasses over pricing.
Jaguar Land Rover will cut its suggested retail price of three models including the Ranger Rover 5.0 V8, Ranger Rover Sports 5.0 V8 and Jaguar F-Type Cabriolet.
Local and foreign media previously reported that foreign car makers including Mercedes-Benz were being probed by NDRC for possibly over-charging customers in China.
Earlier last week, Nicholas Speeks, head of China sales at Daimler AG's Mercedes-Benz, said he was unaware of any NDRC investigations but added that the price regulator had expressed some concerns to the German luxury carmaker. It did not elaborate.
Jaguar said its price cut was in response to the industry investigation by the NDRC's Bureau of Price Supervision and Anti-Monopoly.
NDRC said in the past that it was collecting evidence of possible anti-competitive behaviour in China's vehicle and autoparts market.