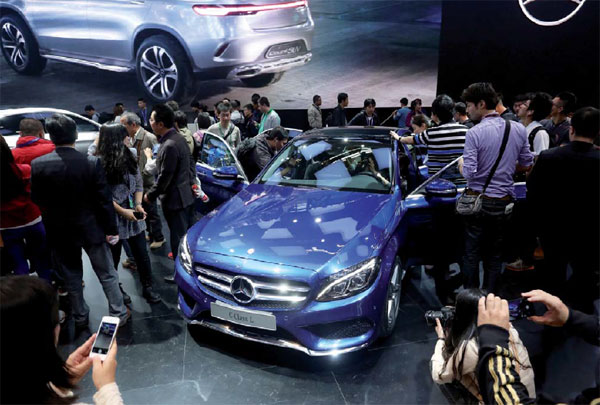 The all-new C-Class long wheelbase attracted great attention at the Beijing auto show in April. Photos provided to China Daily
Ahead of its Chinese market launch in third quarter, the new generation C-Class by Mercedes-Benz has begun rolling off the production line at Beijing Benz Automotive Co Ltd.
"The C-Class is at the core of our development in China," said Hubertus Troska, member of the Board of Management of Daimler AG responsible for China, and chairman and CEO of Daimler Greater China.
"With more than 150,000 vehicles of the predecessor model delivered to customers, China has already become the second-largest market for the C-Class. "With the all-new long-wheelbase C-Class we are now taking the next step - designed and developed for China, produced exclusively in China".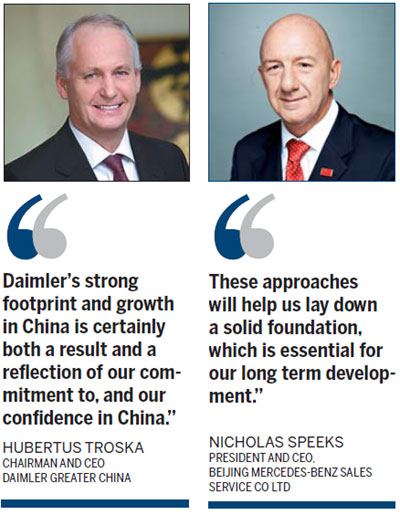 Mercedes-Benz has also announced the start of pre-sales and orders for the highly anticipated model. The C 200 and C 260 will be the first variants offered in China.
"The all-new C-Class is a key model in our strong product offensive that will see 11 new or upgraded Mercedes-Benz models in total introduced to China by the end of 2014," said Nicholas Speeks, president and CEO of Beijing Mercedes-Benz Sales Service Co Ltd.
Those models include the new E-Class recently launched with more advanced engines and specifications, a completely new S-Class family lineup from top to bottom, and the all-new CLA, the newest member of the carmaker's premium compact car family in China.
Core competitiveness
"With sales of Mercedes-Benz passenger cars increasing 36 percent in the first half of the year, we are step-by-step moving in the right direction," said Troska.
China is now the largest market in the world for four of Mercedes-Benz's pillar products: the S-Class, the E-Class, the GLK and the R-Class. Overall, it is the second-biggest market for the German automaker worldwide.
Sales of locally produced products have grown significantly, including a nearly 70 percent year-on-year surge for the E-Class and a 53 percent increase for the GLK-Class.
In line with the company's China strategy, locally produced models now account for over half its passenger car sales in China.
"Top-notch products are undoubtedly our core competitive edge," said Speeks.
"In order to delight and exceed our customer's expectations, we will continue to push forward."