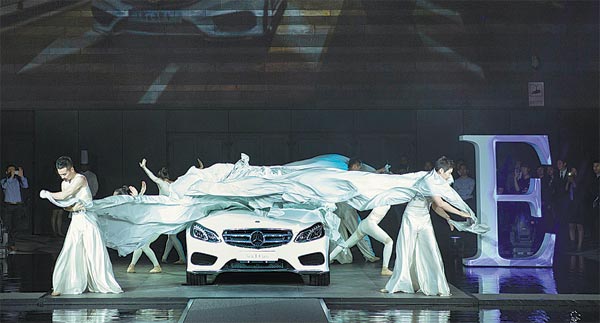 Mercedes-Benz's new E-Class with 15 model variants premiered in Xi'an, Shaanxi province. [Photo/China Daily]
Nicholas Speeks, president and CEO of Beijing Mercedes-Benz Sales Service Co Ltd, finds a compelling connection between the historic E-Class sedan and China's ancient capital Xi'an.
As he introduced the latest edition of the model in the city on June 19, Speeks said "Xi'an holds a significant position in China's history, famous for the Bronze Horse Carriage, as the capital of nine dynasties and as the gateway to the Silk Road".
"Just as the E-Class has had an important standing at the core of our brand since 1945 - it is now nine generations of history."
Mercedes-Benz announced the launch of the newest E-Class with 15 model variants including the E 200 L, E 260 L, E 320 L and E 400 L at prices ranging from 429,000 yuan to 798,000 yuan.
Building on last year's model, the new E-Class has enhancements including the new BlueDIRECT engine with third-generation direct injection turbocharged technology as well as Intelligent Drive driver assistance systems, and for the first time on the E-Class, 4MATIC all-wheel drive.
"As the world's most prestigious executive limousine, each generation of the E-Class and its competitive, segment-leading features have been enthusiastically received," said Speeks.
"Customer admiration for the E-Class is evidenced by its remarkable market performance and nearly 80 percent year-on-year growth in the first five months here," he added.
"These also demonstrate the increasing strength of Mercedes-Benz' locally made family of vehicles.
"With both the car and now the engine made in China, Mercedes-Benz' commitment to the country only continues to grow.