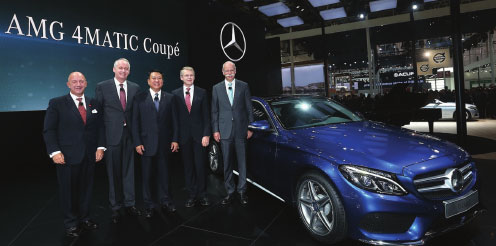 Executives of Daimler and its local partner BAIC take a group photo with the locally produced all-new C-Class Long Wheelbase.
A year since the establishment of its new sales company in China - Beijing Mercedes-Benz Sales Service Co Ltd, Mercedes-Benz has regained its momentum in the market.
In the first quarter of 2014, the automaker achieved an impressive 47 percent growth over the same period last year.
This positive trend is expected to continue as Mercedes-Benz targets a double-digit increase in sales for the full year.
To prepare for another year of strong growth, Mercedes-Benz made a splash at Auto China 2014 with 12 new models.
Leading the way was the highly anticipated All New C-Class, which opened a new chapter as the first-ever long wheelbase version of the model series.
Tailor-made exclusively for the China market, the All New C-Class Long Wheelbase is the longest car in the segment with a total length of 4,766 mm and a 2,920 mm wheelbase.
The segment's most beautiful and intelligent car, it is the first in its class to feature a number of innovative technologies such as a touchpad that can recognize Chinese handwriting, full LED headlamps, and a wide range of driving assistance systems.
Also taking the world stage for the first time was the Concept Coupe SUV, which fuses the best of both the coupe and SUV worlds.
As the inventor of the four-door coupe with a rich history and full range of SUVs, it is the natural next step for Mercedes-Benz to combine the best of both worlds in this exciting crossover.