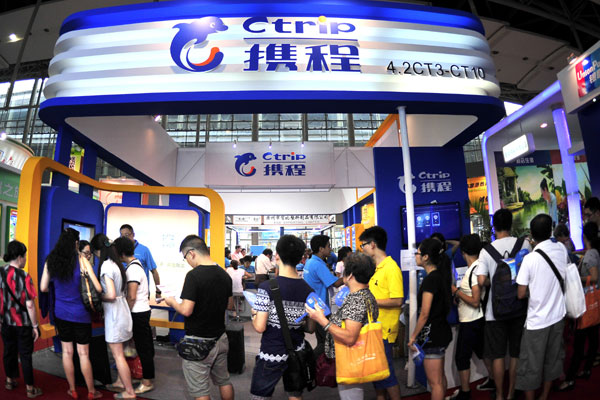 Citizens consult at the Ctrip.com booth in the China International Tourism Industry Expo in Guangzhou, Guangdong province, in August 2013. The online travel operator reached 5.4 billion yuan ($882 million) in net revenue in 2013, increasing 30 percent year-on-year. Provided to China Daily 
Mercedes-Benz and HHtravel, a subsidiary of online travel operator Ctrip.com International, launched the first undertaking in their joint program, Mercedes-Benz Travel, on Tuesday, which aims to tap into the high-end tourism market.
The outbound tours are priced between 130,000 and 290,000 yuan ($47,357), with a maximum of six people on each tour group.
All the products are designed by Mercedes-Benz, which has long experience in servicing elite travelers, said Jack You, CEO of HHtravel.
The German automaker also will provide its local expertise at the destinations, while HHtravel has taken on the responsibility for marketing, he added.
"We look forward to the reaction of the public, as it is the first time Mercedes-Benz Travel has entered this market," said Thomas Eisenbarth, head of Mercedes-Benz Travel.
Some facilities and auto museums belonging to Mercedes-Benz are included in some of the tours.
It makes sense that the luxury car manufacturer is eyeing Chinese outbound tourism, some experts said, especially high-end tourism which has a high margin.
"The joint program should get a win-win result, as the service experience of Mercedes-Benz can make up for the Chinese agency's disadvantages in tour design," said Jiang Yiyi, director of the China Tourism Academy's International Tourism Development Institute.The huge Chinese market is a lure for the German company, Jiang said.
HHtravel, known for its around-the-world trips, has seen its business double and redouble in the past two years, You said.
The strategy of the high-end agency's parent company to develop segmental markets and provide a range of services also helped Ctrip.com do well over the past year.
Ctrip.com had net revenue of 5.4 billion yuan in 2013, with a 30 percent year-on-year rise, and saw its net profit increase by 40 percent to 998 million yuan in 2013, according to the company's annual report.
Besides the high-end tourism, Ctrip.com is also exploring some new businesses including car rental and tickets of some spots.
"Ctrip.com is poised to occupy the position of the largest online travel agency in China," said Wang Tingting, analyst from iResearch Consulting Group.
During the same period, eLong Inc, Ctrip.com's main rival, recorded its first loss in 2013 after having enjoyed five years of profits.
The online travel agency, which focuses on the hotel booking business, suffered a net loss of 167.7 million yuan, while its net income was 500,000 yuan in 2012, its financial report said.
In order to compete with Ctrip.com and get more market share, eLong offered many promotions, such as coupons and group purchases.
Although its hotel commission revenue increased 41 percent in 2013 from the year before, its commission per room night in 2013 fell by 12 percent, due to higher promotions and lower daily rates, according to eLong's annual report.
Don't miss: