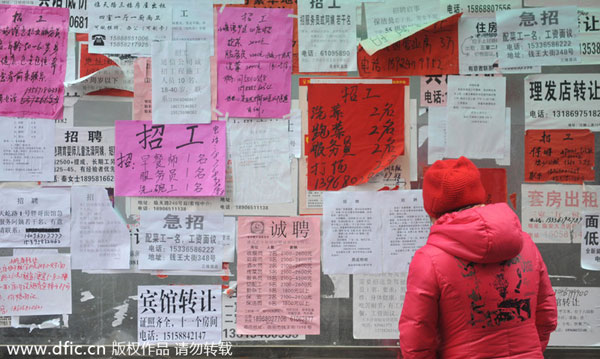 A woman read recruiting ads in Lin'an, Zhejiang province, Feb 8, 2014. [Photo/dfic.cn]
China's polled unemployment rate in March was 5.17 percent, slightly lower than in February, said Li Pumin, secretary-general of the National Development and Reform Commission, on Wednesday.
It was the first reference to the jobless rate since Premier Li Keqiang mentioned it in an article in the Financial Times in September.
Traditionally, the government publicizes the urban registered unemployment rate. That number has long been criticized as a biased and deflated one. It also has rarely changed, staying at about 4.1 percent since 2010.
As an alternative, the government has administered a monthly survey in 65 major cities. The number is currently available only to policymakers and has not been made public.
Premier Li said in September that China's polled unemployment rate was 5 percent for the first half of 2013. Li Pumin did not elaborate on what the number was in February this year.
Citing the low unemployment and moderate inflation rates, Li Pumin said the economy is stable and healthy. As a result, the government does not foresee having to roll out stimulus measures.