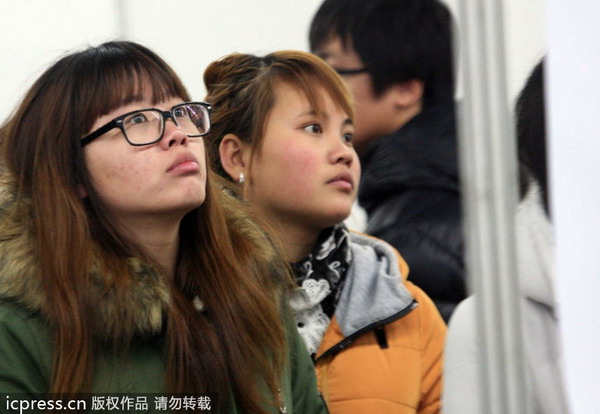 Job hunters read want ads at a large-scale job fair held in Liaoning province, Jan 5, 2014. [Photo / icpress.cn]
This year seems destined to start slowly in economic terms, as hiring demand in most industries hit a five-year low, according to a report by human resources firm Hudson released on Tuesday.
About 45 percent of 1,000 employers, who were polled said they will increase the head count at their companies in the first quarter of the year, down 9.7 percentage points from the previous quarter. Some 44 percent of surveyed employers are expecting to keep staffing steady in the next three months, up 7.6 percentage points from a quarter earlier, while more than 10 percent of employers intend to cut their workforce in the next quarter, up 2.1 percentage points.
The banking and financial services industry is seeing the most robust hiring demand, with 62.7 percent of respondents in the sector saying they will increase head count in the first quarter. Most of the vacancies are for jobs such as receptionists and customer relations managers.
Lyu Yan, vice-president and head of the human resources department at Allianz China Life Insurance Co Ltd, said the company has been growing steadily in China in the past few years, with an average personnel growth rate of about 10 to 20 percent annually.
"We're setting up branches in China, which requires more hands, undoubtedly. Also, we started our compulsory traffic accident liability insurance business in the Chinese market in May last year, which also means an increased head count," she said.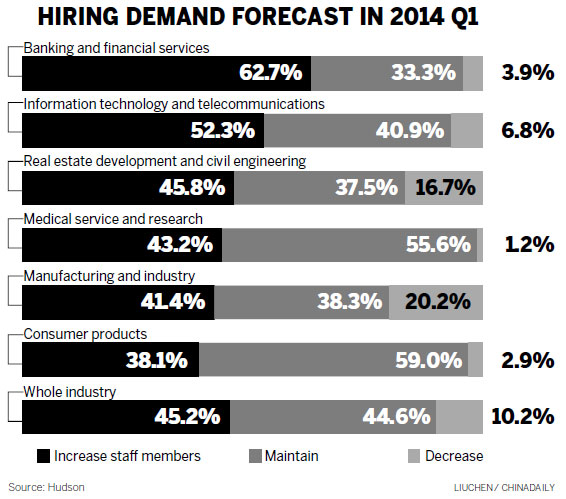 Meanwhile, hiring demand in the consumer goods industry has decreased drastically. China's slower economic growth rate, a crackdown on spending on luxury goods and the growing popularity of overseas shopping trips have resulted in a slowdown in hiring, especially in the Chinese luxury industry, according to the report.
"When the economy slows down, the consumer goods industry is one of the first sectors to feel that effect, after the finance and manufacturing sectors," said Lily Bi, joint general manager of Hudson Shanghai.
Despite the lowest hiring demand in five years, about 73 percent of 1,000 surveyed employees said they would change jobs in 2014, due to dissatisfaction with their managers, a mismatch in salary expectations and an unclear career path, according to the Hudson report.
Among those who demonstrated a strong intention to change jobs in 2014, about 54 percent of them expect to make the move in the next six months.
Nearly half of the surveyed employees rated their current manager's performance as "poor" or "very poor", and among those 52 percent said they are considering leaving their jobs because of that.
Xia Yun, a marketing specialist at a Nanjing-based exhibition company, is considering leaving her current company because her boss is not giving her enough space to develop.
"I don't see much room for development in this company. My boss asks me to change positions from time to time, without asking for my opinion. There's no clear career path here. Also, I want my monthly salary to be up by 15 percent to reach 7,000 yuan ($1,160)," she said.
"There's great fluidity in the market. Employees are expecting to move, and to move quickly. For employers, it's necessary to have the right strategy in place to ensure they retain high-performing people, which is necessary to gain greater market share," said Bi at Hudson.