Low-end jobs hit by labor pains
Updated: 2014-01-03 07:06
By Li Tao (HK Edition)
| | | | | | | | | |
| --- | --- | --- | --- | --- | --- | --- | --- | --- |
|   | | Print | | Mail | | Large Medium  Small | 分享按钮 | 0 |
It is no longer low pay that's causing young workers to shun those thankless jobs demanding hard labor - it's work life balance that's exacerbating a labor shortage that's only getting worse. Li Tao writes.
There is always a hiring post stuck to the window of Nam Kee Noodles, a popular local restaurant in Aberdeen, renowned for its fish-ball noodles, but the contents inked to the post change all the time.
In November 2012, post jobs for a dishwasher, at a minimum monthly salary of HK$8,500 ($1,097); a cleaner at HK$9,600. A year later, in November 2013, Nam Kee Noodles was hiring again. Only this time over a period of 12 short months, the dishwasher's job was posted at HK$9,650 a month - a 13.5 percent increase from a year earlier. The cleaner's job was posted at HK$10,700 a month: an increase of 11.5 percent over the period of a year ago.
Increases of this magnitude far outstripped the average 3.92 percent pay raises among civil servants in the lower and middle salary bands and 2.55 percent in the higher bands for 2013-14, as announced by the government in June.
Yet still, even with generous increases at levels of 13.5 or 11.5 percent, many local business owners are having a hard time filling job vacancies, according to Chan Shou-ming, chairman of the Hong Kong Federation of Restaurants & Related Trades.
"The catering sector is desperately in need of help; dishwashers in particular, and the shortfall has reached 20,000 people these days," Chan told China Daily.
"Salary for dishwashers in some restaurants has even floated to some HK$15,000 a month," Chan indicated. Compare that to the latest Hong Kong census, which reveals an average monthly income of only HK$12,000 in the city.
To get over the manpower headache, some Hong Kong restaurants had gone so far as to outsource all their dishwashing. Ngan Lung Restaurant, a tea restaurant in Causeway Bay, advertised in a hiring flyer that it would pay a lump-sum of HK$48,000 a month, minimum, for someone to take on the entire dishwashing load.
While many local restaurants are trying to compete for staff by offering wage hikes, the labor shortage remains unresolved, with salaries soaring so high, some catering businesses have been pushed right into the corner.
Data provided by the Federation showed that average net profit among Chinese food restaurants in Hong Kong these days has fallen as low as 2 percent nowadays. Some smaller players have started posting losses - because not only are workers' salaries going through the roof, food prices and rental are shooting up as well.
The evident sole beneficiaries of these changes, the workers themselves, still aren't happy. A waitress surnamed Yau, working at a local restaurant in Mongkok is fully aware of how wages for restaurant labor have shot up. She's still looking to get out, at the first opportunity she can find outside the catering industry.
"It's a very tiring job, and basically I'm kept busy throughout the day," Yau said. She works nine hours a day; gets a 30-minute meal break and is allowed four-days off a month.
"Everything is getting pricy today and my life is not better off with these tepid salary increases," Yau said.
There are no laws regulating the working hours, paid rest, or compulsory overtime rates for most employees in Hong Kong which highly treasures its reputation for having the world's freest economy. A survey conducted by the city's Census and Statistics Department between January and March 2012 showed nearly 17 percent of employees worked 60 hours or more per week.
Higher median hours of work were observed among employees in the retail, accommodation and food services sector, averaging 51 hours a week in Hong Kong. That's equivalent to an 8.5 hour day, six days a week, even days, said the survey.
Yau's dislike for her job, reflect the reality that jobs demanding manual labor are held in low regard and seen as poor choices by Hong Kong workers, despite the improving wages and working conditions. With the city's seasonally adjusted employment rate from September to November, 2013, standing at a low 3.3 percent, and the underemployment rate for the period at 1.5 percent, the government declared Hong Kong was in - "a state of full employment." Few people are wandering the streets looking for jobs, leaving employers facing what amounts to a sellers' market when they go out looking to hire.
Labor shortage reality
The picture of the labor shortage grows even darker when viewed from the perspective that Hong Kong's labor force is projected to experience declining numbers, over the next four or five years.
Hong Kong's fertility rate in 2012, stood at only 1.3 children (born during the lifetime of every woman of child bearing age). Many consider a fertility rate that low as reflective of an irreversible population decline. A fertility rate of 2.1 is needed just to keep the population stable, according to Hong Kong's Steering Committee on Population Policy. The committee expects the fertility level to remain in the vicinity of 1.3 until 2041. Thus, within a side by side comparison of the number of births to the number of deaths, Hong Kong's population is expected to enter a slow decline.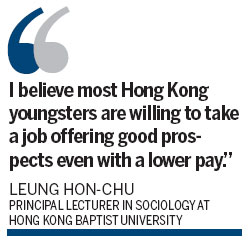 In the "Report on Manpower Projection to 2018" published this April, the labor supply in Hong Kong is projected to increase at an average annual rate of 0.6 percent from 3.42 million (the level in 2010) to 3.58 million in 2018. While the population of workers aged 55 and above will climb, the supply of workers under 55, is projected to shrink from 2.97 million in 2010 to 2.91 million by 2018; reflecting a decline from 86.8 percent of the total population to 81.2 percent.
Hong Kong government also warned that the city will suffer a labor shortage of 14,000 in 2018 on the premise that the local economy continues to expand at a rate of 4 percent. If the economy grows even faster, at a rate of 6.5 percent a year, the anticipated labor shortfall, then, would reach a staggering 163,800 by that time.
What attaches to the overall labor shortage in status-conscious Hong Kong are also the relative manpower deficits affecting different industries.
Taking note of complaints by the city's employers that they are unable to find workers, Chief Secretary Carrie Lam said in October that the hardest hit sectors are construction, retail and catering. Most notable about that observation is the fact that these are the same jobs demanding those long working hours averaging 51 hours a week.
The most recently updated "Quarterly Report of Employment and Vacancies Statistics" published in June, showed that there were 84,838 job vacancies (including 6,980 vacancies in the civil service) in Hong Kong. That marked a 9.9 percent increase in the number of jobs that could not be filled from a year earlier.
Unfilled jobs at construction sites, according to the paper, jumped 74.3 percent, to 1,025 in June over a year earlier.
It's not low pay either that's causing younger workers to shun tough manual labor, such as construction jobs entail. The Hong Kong Construction Industry Employees General Union announced in October that workers dealing with concrete who now earn from HK$1,500 to HK$1,800 a day in Hong Kong are expected to win an increase to HK$2,000 per day in 2014. Daily pay for carpenters working on formwork for sites and Iron and steel workers in the city, whose number fewer than 2,000, are likely to go up to HK$1,750 and HK$1,710 in 2014.
Job prospect matters
It has become difficult to recruit new blood to some of the unpopular jobs such as concreting and formwork carpentry in Hong Kong nowadays, Chow Luen-kiu, chairman of the Union, told local media earlier. He added the Union tried to unveil its 2014 pay-raise plan ahead of time in order to attract more youngsters to join the industry.
Although working on construction sites would guarantee a relatively prosperous life in terms of income, the high workloads as well as potential engineering safety issues have greatly diminished the willingness of young people to enter the industry, Leung Hon-chu, principal lecturer in Sociology at Hong Kong Baptist University observed.
"They will also worry about their later life when they, physically, are no longer able to carry on these heavy labor jobs," Leung told China Daily in a telephone interview.
"People will always try to strike a balance between the working condition and income, and most importantly, their career prospects. I believe most Hong Kong youngsters are willing to take a job offering good prospects even with a lower pay," Leung added.
Hong Kong's service industry is definitely short of hands, even if industry participants have been trying hard to train more people to fill the vacancies these days, according to Vincent Fang Kang, a Legco member of Functional Constituency - Wholesale & Retail.
"We are seeing an increasing number of fast food stores opening in Hong Kong these days. Have you ever noticed so many Cafe de Coral in the past?" asked Fang. But the growth of supporting manpower within the industry has apparently been trailing behind.
When restaurants are competing for workers by continuously raising salaries, and some local companies now specializing in dishwashing, what we may see next is the deterioration of competitiveness and of service quality, Fang said.
Importing labor from outside the city to do the jobs Hong Kong won't accept, is probably the only feasible solution to the city's growing labor shortage, he believes.
Kahon Chan and Grace Chai contributed to the story
Contact the writer at litao@chinadailyhk.com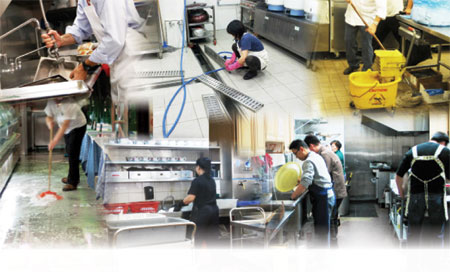 (HK Edition 01/03/2014 page2)