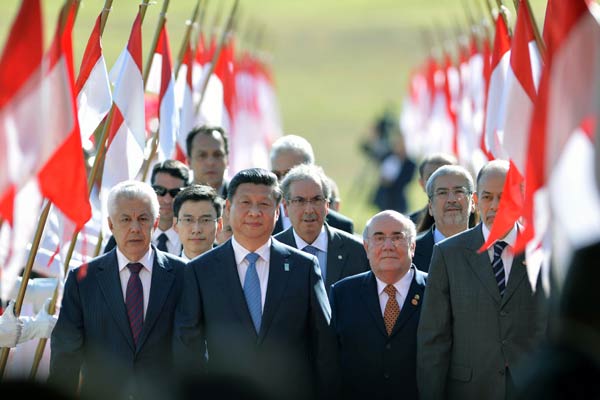 President Xi Jinping reviews a guard of honor upon arrival at the National Congress in Brasilia on Wednesday. EDILSON RODRIGUES/AGENCE FRANCE-PRESSE
Transnational project to be major contributor to regional integration
China is laying the tracks for the further development of Latin America and boosting relations with the region following President Xi Jinping's proposal for a Peru-Brazil transcontinental railway and the signing of a China-Brazil rail agreement.
Observers said these rail initiatives would be a major contributor to regional integration and give Latin American economies greater diversity for their exports, with the burgeoning Asian market being added to the traditional European one.
The attractiveness of Chinese investment is not just a question of cash or exports, but the ability to bring major upgrades in infrastructure and to open up areas of the continent's interior, a key goal for Brazil and other countries, observers added.
China and Brazil sealed a long-awaited memorandum of understanding on railway construction on Thursday, among a raft of agreements including the educational and manufacturing sectors.
The 1,630-km railway project is located in the central part of Brazil, linking Lucas do Rio Verde and Campinorte, according to the Ministry of External Relations of Brazil. It will be crucial for the transportation of soybean from the middle west of the country.
Two Chinese companies also signed deals to buy and rent 60 regional aircraft from Brazil.
Brazilian officials have long expressed their wish to see Chinese rail companies get more involved in the nation's infrastructure program, highlighting the competitiveness and experience of China, home of the world's largest rail network.
The signing of the agreements came on the heels of Xi's proposal to form a trilateral working group to guide plans to build a railway across the continent from Peru's Pacific coast to Brazil's Atlantic coast.
The working group should consider all aspects of the transcontinental railway proposal, including planning, design, construction and the operation of the service, Xi told Peruvian President Ollanta Humala in Brazil's capital, Brasilia, on Wednesday.