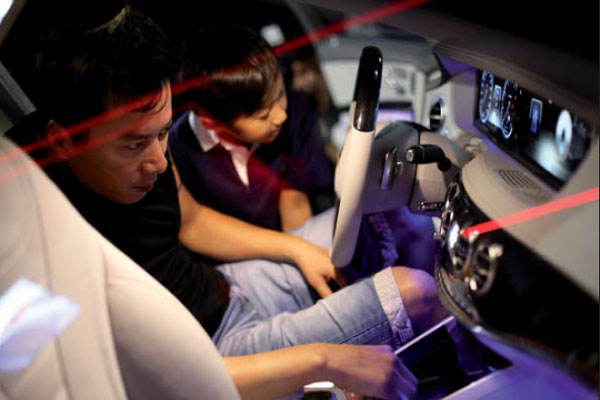 Customers explore features on the all new S-Class.
Solid foundation
Mercedes-Benz' emphasis on providing the "best customer experience" is illustrated by the automaker's new Star Maintenance Menu that started on July 1. To be more transparent, flexible and convenient for customers, it standardizes after-sales service costs on pillar models.
Also, the continued product and service offensive is supported by the fastest retail network expansion in company history. Some 100 new outlets will be opened, 65 percent of them in fast-growing lower tier cities. By the end of the year, it will have dealers in 40 new cities across the country.
Efforts for improved services will be bolstered by the company's fifth dealer training center in China. The Shanghai facility will be the largest Mercedes-Benz site for service training worldwide with the capacity for 140,000 participant-training-days annually.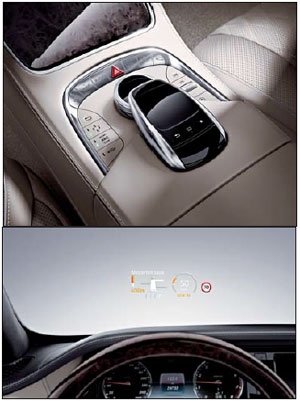 Innovative touchpad and heads-up display on the latest S-Class.
Certified trainers, a growing array of programs, a curriculum fitted to local market needs and state-of-the-art equipment will support dealer network development by ensuring high standards in dealership operations and service quality.
"These approaches will help us lay down a solid foundation essential for long-term development," said Speeks. "While 2014 will be a successful year for Mercedes-Benz, we fully expect even stronger sales momentum in 2015 - our target is more than 300,000 units."
In-depth localization
Localization has been key for Mercedes-Benz growth ever since, with the establishment of its integrated sales company BMBS last year being just one proof.
The all-new C-Class will be for the first time offered with a long wheelbase version providing passengers with maximized backseat legroom.
With a touchpad that recognizes Chinese hand writing, Collision Prevention Assist Plus and LED headlamps as standard, the model's advanced technology and assistance systems should enhance the core competitiveness of the new model.
In early 2015, the premium compact SUV GLA will follow the E-Class, C-Class and GLK-Class as the fourth Beijing-born Mercedes-Benz, helping the brand achieve its goal of two out of every three Mercedes-Benz vehicles sold in China to be locally made by 2015.
The success of locally produced Mercedes models is due to the brand's commitment to maintaining worldwide quality standards in locally made products.
That includes engines, which the company has manufactured in Beijing since last year. It's a clear and strong proof that Mercedes-Benz is bringing its finest technology and craftsmanship to China.
The automaker even recently began exporting Beijing-made engine blocks, crankshafts and cylinders to its German sites. Localization initiatives will be further supported by an all-new R&D center set to open this summer.