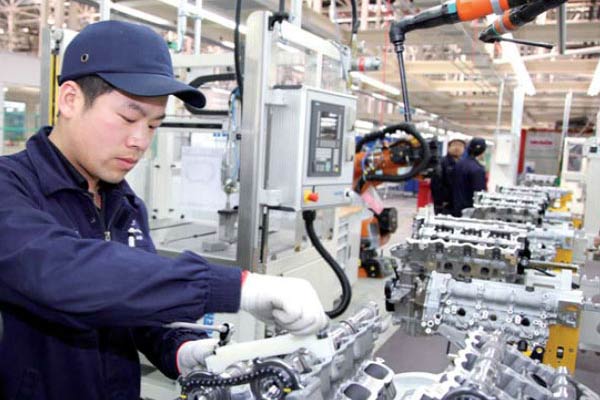 Assembly of a locally made Mercedes-Benz engine.
Enlarging footprint
China is already the biggest passenger and commercial vehicle market worldwide, so Daimler expects its businesses in China, covering all automotive segments, will continue to see strong growth.
"Daimler's strong footprint and growth in China is certainly both a result and a reflection of our commitment to and our confidence in China," said Troska. "Based on these strong fundamentals, I am confident that we will be able to keep the positive momentum for our entire business."

At the Beijing auto show in April, Daimler held the world premiere of the DENZA, its "designed for China, made in China" all-electric vehicle with a range of up to 300 km and an innovative safety concept. The German automaker teamed with Chinese partner BYD "to produce a car that will raise the bar for the entire domestic electric vehicle industry" when it officially launches in September, said a company statement.
Mercedes-Benz has dominated the imported premium truck segment continuously for the past eight years, by June 2014 with a market share of about 60 percent.
Daimler's Chinese truck joint venture Beijing Foton Daimler Automotive Co retailed about 104,000 units in 2013 only, equaling 34 percent year-on-year growth rate and so the highest sales growth among China's top five medium- and heavy-duty truck manufacturers.
By June 2014, Aumann truck sales rose by another 13 percent year-on-year.
Daimler is also pushing forward with its customer-oriented service offers. Mercedes-Benz Automobile Finance Co is now offering auto financing products to Chinese customers.
In 2014, MBAFC launched the new Agility leasing program, the first lease in China that offers customers the option of trading in, buying or returning the vehicle at the end of the lease period.
The financing arm is currently putting about one out of every five Mercedes-Benz passenger cars on the road in China.
People at the core
The ongoing heavy investment Daimler is making goes hand-in-hand with the company's commitment to employees at all of its business sites.
"A motivated, dedicated and well qualified workforce is a precondition for sustained business success - this is true for China as it is for any other country in the world. It is one of our key strategies to invest in our people and so strengthen our team with exceptional local talents and experts," said Troska.
For younger people the company moves on two fronts - with local partners localizing the proven German dual-educational system and a "CAReer Program" to attract and develop qualified graduates with advanced degrees.
Daimler China also has a "TECHex" program to increase the know-how and number of its local engineering and technical force. An EMBA program for senior managers launched in 2007 enables professional leadership development to foster international management skills within the company.
Backed up by a strong and trained team, Daimler and Mercedes-Benz continues to build upon their philosophy of providing the best products, services and experience, with an eye on continuing the momentum exhibited in the first half of the year into the rest of 2014 and beyond.