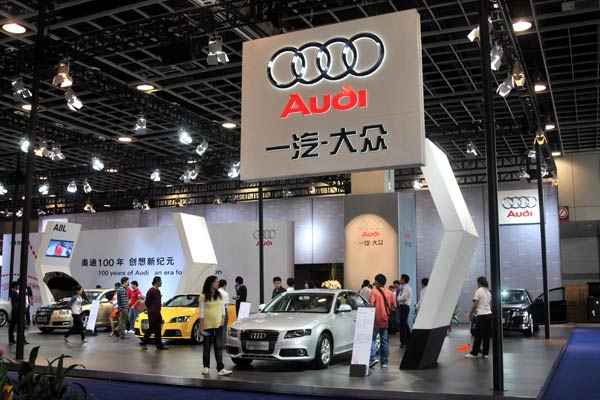 The Audi division of FAW-Volkswagen was fined 249 million yuan by the Hubei Provincial Commodity Price Bureau for monopolistic practices. SHAO CHANG/CHINA DAILY
Monopolistic acts by its joint venture division, eight dealers
Autumn is harvest time, but for German automaker Audi's joint venture partner, the season has brought an unwanted result-unflattering publicity and a fine for price fixing.
On Sept 11 the Hubei Provincial Commodity Price Bureau announced a fine of about 249 million yuan ($40.62 million) for monopolistic practices by FAW-Volkswagen's Audi division. Eight Audi dealers in Hubei province were also fined a total of nearly 30 million yuan.
In early August the bureau investigated the Audi operation and found it organized dealers in 2012 to sign price-fixing agreements on vehicles, spare parts and maintenance. The automaker was also found to have taken similar actions in 2013.
The company acknowledged its violations after the investigation as FAW-Volkswagen General Manager Zhang Pijie said the joint venture "has taken action immediately and stopped the illegal behavior".
Earlier Chinese media reports said that the Audi division might face a fine of 1.8 billion yuan for operating a monopoly.
FAW-Volkswagen's Audi division sold 488,488 vehicles in 2013 at an average price of around 400,000 yuan, said the reports.
With sales revenue of 195 billion yuan, the fine could have been 1.8 billion yuan under China's anti-monopoly law, which allows fines of up to 10 percent of a company's revenue for the previous year.
Colin Liu, a lawyer in the automotive industry, said "the government normally sets a percentage of annual sales as fines based on how cooperative the companies are".
But some experts in the industry said the actual fine levied is not a strong deterrent.
"Even a fine of 1.8 billion yuan would be a piece of cake for Audi, though it may be an astronomical figure for many," said auto analyst Li Rubei in an editorial published at news portal Tencent.com.
"Audi has made too much profit from its monopolistic behavior in China. For example, an Audi Q7 40 TFSI sells at 47,700 euros in Europe. That is about 300,000 yuan. But the model sells in China for as high as 1.3 million yuan.
"So if the government really wants to punish Audi, even a fine of 18 billion yuan is not too much. And only such a figure can sound a real warning to other violators in the industry," said Li.
Luo Lei, deputy secretary-general of the China Automobile Dealers Association, told China Daily in an earlier interview that monopoly actions are common in the automotive industry, especially in the luxury sector, which is growing much faster than the overall market.
The punishment for its monopolistic practices came as Audi was ensnared in the country's anti-corruption campaign.
On Aug 26 China's top discipline inspection department announced that Zhou Chun, a deputy manager of FAW-Volkswagen's Audi division, had been put under investigation for suspected serious discipline and law violations.
It also found that some senior managers at the division spent lavishly when they had meetings outside China in July. That was in the same month that Audi said it was "proactively supporting the investigation of the anti-monopoly bureau".
Once the favorite government car, Audi has also been connected to some notorious suspects in China's recent anti-corruption campaign, according to Chinese newspapers.
The Beijing News reported in March that a company called Jiangyin Benyue became the only authorized dealer in Jiangyin, Jiangsu province in 2010 although it was not the best candidate. Other potential dealers then complained.
It was later found that the company was owned by Zhou Lingying, sister-in-law of China's ex-security chief Zhou Yongkang, who was investigated in late July for suspected serious disciplinary violations.
Another suspect is Rui Chenggang, former anchorman at CCTV, who was put under investigation in August, according to the 21st Century Business Herald.
The newspaper reported that FAW-Volkswagen Audi has been a sponsor of the annual Summer Davos conference and many of its media events were organized by Pegasus Communications in which Rui held shares from 2007 to 2010.
The story suggested Rui used his influence at the national broadcaster to ensure favorable coverage for Audi.