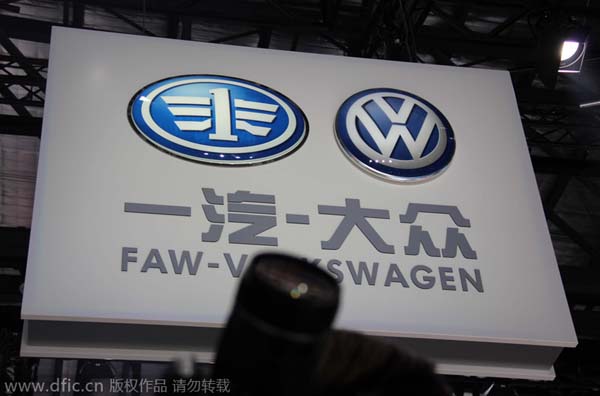 The signage of FAW-Volkswagen is pictured during the 12th Beijing International Automotive Exhibition, known as Auto China 2012, in Beijing, April 25, 2012. [Photo/IC]
The antitrust investigation on FAW-Volkswagen that cost the multinational automaker 248 million yuan ($40.4 million) in fines started from a singular customer complaint, China National Radio reported on Friday.
An Audi customer surnamed Kuang in Wuhan, Hubei province, had called on the media for help after finding out her insurance company would only compensated about a third of her vehicle's maintenance costs. Local authorized dealerships had more than doubled their service prices since the beginning of this year, Hubei newspaper Chutian Metro Daily reported.
Audi agents declined reevaluating the maintenance cost and further raised prices after an initial meeting with Hubei Bureau of Price Supervision. The price watchdog found a monopolistic agreement among Audi dealers to set high maintenance prices for cars in March, according to CNR.
The fine is "within expectation and will ring an alarm bell for their future operations in China," said Zhang Zhaohu, editor for Quality Car magazine and a commentator with CNR.
FAW-Volkswagen's punishment is equivalent to six percent of the company's luxury brand Audi's 2013 sales in Hubei province.
"Such investigations could help narrow the price gap of luxury cars between China and the world and do good to Chinese customers," said Zhang, adding that anti-monopoly regulation is essential to the industry's healthy development.
Only 10 percent, 33 out of 335 anti-monopoly investigations are against foreign invested enterprises, government officials said at a State Council Information Office press conference on Thursday. The total penalties have accumulated to more than 1.63 billion yuan in the first nine months.
Antitrust probes in the auto industry have taken a wider scope across Asia. India recently announced that it would fine 14 automakers a total of $420 million for price manipulation.