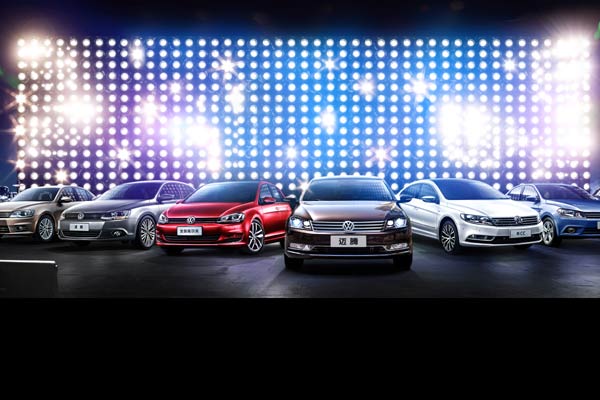 By developing more models, FAW-Volkswagen aims to meet the diverse needs of its Chinese customers. CHINA DAILY
FAW-Volkswagen is the envy of most automakers in China: it is one of the most recognizable auto brands, a long-standing top three player by sales volume and, more importantly, it does not rest on its laurels.
"We worked for more than 20 years to get there and I guess now the most challenging part for us is to stay in the top category as our competitors will not simply sit there applauding our achievement," said Stephan Woellenstein, executive vice-president of FAW-VW Sales Company.
One of the many moves that FAW-Volkswagen adopted to consolidate its position was to adapt to the habits of young people who account for more than 50 percent of the FAW-VW's customers.
Woellenstein said young Chinese always check what is going on online and exchange their opinions on social media and it is understandable that they don't want to be treated by an old brand in an old way.
"So we have to adapt to their needs," said Woellenstein, adding that this was why his company released a mini movie online last year to launch the new CC.
The promotional film attracted 40 million hits and the car was the first model to be mainly launched on the Internet in the country.
He said smart phone applications also allow customers to get information about the companies' models in their own way.
FAW-Volkswagen also organizes offline events on campus to approach young students.
Among others, its Music Park has so far been staged in seven universities across the country.
More models
As FAW-Volkswagen is having an increasingly larger variety of target customers, it has stepped up its efforts to enrich its lineup of models to meet "every niche need", said Woellenstein.
He said the FAW-VW would launch "at least three new models each year from 2015" in addition to updating the eight models it is offering now, including the popular Bora, Jetta and Sagitar. Among others, the Passat B8 will be introduced "in the not too far future", he said.
Woellenstein said the FAW-VW would also produce SUVs "as it is becoming a trend that people in China like SUVs and certainly FAW-Volkswagen will not miss the opportunity".
The automaker now has four plants: two plants in Changchun, Jilin province, one in Chengdu, Sichuan province and another one in Foshan, Guangdong province. It is planning to build another two in the coming years-one in Qingdao, Shandong province and the other in Tianjin.